Ad blocker interference detected!
Wikia is a free-to-use site that makes money from advertising. We have a modified experience for viewers using ad blockers

Wikia is not accessible if you've made further modifications. Remove the custom ad blocker rule(s) and the page will load as expected.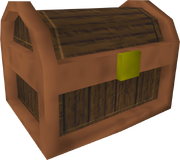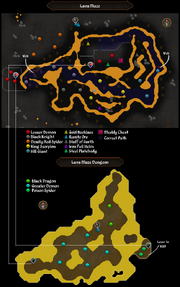 The muddy chest is a locked chest located in the centre of Lava Maze. It can only be opened with the muddy key. Opening the muddy chest grants a variety of rewards, which always include 5,000. Players attempting to loot this chest should beware of PKers: coins acquired in a PvP area cannot be added to your Money pouch and will be dropped upon death.
Muddy chest yields different rewards for opening in free and members' worlds.
Free worlds
Edit
| | Item | Quantity | Rarity | GE price |
| --- | --- | --- | --- | --- |
| | Coins | 5,000 | Always | 5,000 |
Members' worlds
Edit
Item
Quantity
Rarity
GE price
Coins
5,000
Always
5,000
Battlestaff
2 

(noted)

Common
13,858
Coins
10,000
Common
10,000
Blood rune
20
Common
10,740
Bloodweed seed
1
Common
51,697
Crystal key
Unknown
Uncommon
43443
Dragon longsword
1
Uncommon
57,293
Historical
Edit
Prior to the Wilderness Achievement Diary's release, the muddy chest gave rewards of a lower value. The loot also was not variable.
Item
GE price
Stackable

1 Uncut ruby
2,741
No

1 Mithril bar
1,419
No

1 Mithril dagger
1,129
No

1 Anchovy pizza
773
No

2 Law runes
446
Yes

2 Death runes
412
Yes

10 Chaos runes
770
Yes

50 Coins
50
Yes
Total value of contents

7,740

Profit if Muddy key is bought

-1,114
POH Chests
Loot Chests
Other chests