Muddy chest
Discuss

0
22,498pages
on this wiki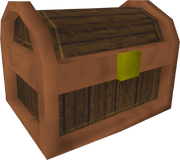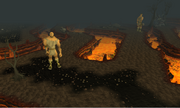 The muddy chest is a locked chest located in the centre of Lava Maze. It can only be opened with the muddy key. When a player opens the chest, they always get the same things from each key:
Item
GE price
Stacks?

1 Uncut ruby
3,429
No

1 Mithril bar
1,566
No

1 Mithril dagger
83
No

1 Anchovy pizza
178
No

2 Law runes
350
Yes
2 Death runes
186
Yes

10 Chaos runes
410
Yes
50 Coins
50
Yes
Total value of contents
 

6,252

Profit if Muddy key is bought
 

3,072
Players may bring only 6 keys and a slashing weapon to reach the chest and fill their inventory. Alternatively players may discard the mithril daggers, which are worth far less than the other items, and can thus bring 8 keys to fill their inventory. This can be increased by bringing a Gem bag to store the rubies. Members can increase this by using a Beast of Burden familiar.
The Lava Maze also contains several items of some worth that spawn there, which players may wish to pick up as they go to the chest:
The coins would not take up an extra inventory slot since the chest yields coins. The other items would require slots, but less valuable items from the chest could be discarded. (15 Body runes and an Iron full helm also spawn in the maze, but these are of lesser value.)
A Lesser Demon resides near the chest and will attack the player. The demon can be neutralized once it attacks: Run several squares west of the chest with the demon following. Then run back to the chest and around it to the east. The demon will then be stuck on the west side of the chest and cannot attack.
Players attempting to loot this chest should beware of PKers, as it is very difficult to run away to safety from player killers in level 40+ wilderness and you will lose over 100K of items if you bring 25 muddy keys with you.
Note: Any coins acquired in a PvP area cannot be added to your Money pouch and will be dropped upon death.
POH Chests

| | |
| --- | --- |
| Prize chests | |
| Costume room chests | Oak treasure chest • Teak treasure chest • Mahogany treasure chest |
| Treasure room chests | |

Loot Chests

| | |
| --- | --- |
| Key chests | Crystal chest • Muddy chest • Sinister chest |
| Thieving chests | Dorgesh-Kaan Average Chest • Dorgesh-Kaan Rich Chest • Ogre coffin • 10-coin chest • Nature rune chest • 50-coin chest • Pirates' hideout chest • Arrowtip chest • Blood rune chest • Paladin chest |

Other chests