Mud is splattered over your face when you talk to Muggh at the beauty shop in Oo'glog once As a First Resort... is completed. The mud is in the shape of a hand.
When removed, a message appears saying "The mud mask crumbles as you rub it off your face." The mud will not return to a player's inventory.
If you die with the Mud worn on your face and it is one of your Items Kept on Death, it will go into your inventory without crumbling.
Combat Stats

| Class | Slot |
| --- | --- |
| None | |

Weapons
Main
Off
Damage
-
-
Accuracy
-
-
Type
-
-
Attributes
Armour rating

0

Life bonus

+0

Prayer bonus

0

Critical bonuses

0%

0%

0%

Compare item

A player wearing mud

[view] • [talk]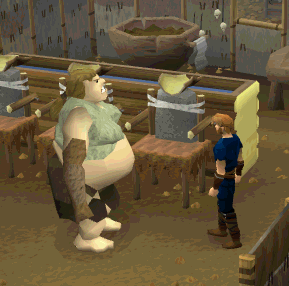 As an item, instead of a "Wear" option, it has an "Apply" option.
The mud's examine info, "Marginally better than having egg on your face" is a reference to the idiom to have egg on one's face.