Mother Mallum
Discuss

5
22,528pages
on this wiki
Loading...
The Slug Menace Salt in the Wound



Mother Mallum, also known as Mahey'ish Medron, is the queen of the sea slugs and had plans to take over Gielinor. By the time players begin the Sea Slug quest, she already had control of most of the Fishing Platform and by the end of The Slug Menace most of Witchaven. When her followers manage to free her from her prison, she plans to take control of all important political figures on the planet to achieve world domination, as she did the last time she was free.
She first revealed herself to the world when the Slug Menace Quest was released. Years ago, she tried to take over the world by taking over important political figures. However, she was stopped by the Temple Knights, who sealed her behind a magical door. Unfortunately, in Slug Menace, the player is tricked into opening that door using some specially crafted runes.
It appears that she communicates with an empty human body and during the last part of the Slug Menace quest, she tries to obtain the body of the adventurer who had inadvertently freed her. Fortunately, at the last minute, the adventurer was saved by Savant, who teleported him/her out of the cave.
Salt in the Wound
Edit

It's Mother Mallum
(
link
)
The music that plays when meeting Mother Mallum during The Slug Menace.
She is seen again during Salt in the Wound. A citadel has appeared in the middle of the Fishing platform and has Slug thralls guarding the entrance. The player, after enlisting help from Kennith (who looks notably much older), Ezekial Lovecraft and Eva, collect ingredients to produce a Anti-mind control serum and then go to the Citadel to confront the Mother Mallum herself, using each character's special abilities and teamwork. During the confrontation, she discards her host body and temporarily takes control of the player's body. However, the player's will is too strong to take over entirely and they are still able to give commands to the others. Using the Anti-mind control serum on Mother Mallum, she releases the player, then Eva squashes Mother Mallum with a pillar, freeing the Witchaven villagers and ending the ancient threat of the Sea Slugs.
Postbag from the Hedge
Edit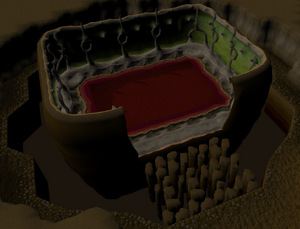 "
Lilly181 Writes:

Dear Mother Mallum, Queen of Sea Slugs...or however you would like to be addressed,

I have been wondering, WHAT ARE YOU DOING EXACTLY? I've been sitting in my parlour, throwing chinchompas around the room to keep myself from worrying about when you are next 'coming'. It's been a busy year I'm sure... and you do seem pretty slow at getting around (which I'm glad about, or I wouldn't be here writing this letter. I would be wherever you are at the moment...) but it can't take this long to do whatever you are doing!

"
 
"
Mallum Replies :

Carrier,

I have taken the mind of this skull momentarily so I can update you with our progress. You carriers have an irritating need to communicate externally, so I must gain control of your mouths and fingers if you are to comprehend my news.

I am birthing, filling the tunnels beneath your cities with my spawn. It is tiring, for this world is more populous than any other we have encountered, and each carrier above ground demands one of my spawn as a companion. This, alas, is our nature: the slow, inexorable crawl of the slug across your world.

Do not worry, for it will not take long. And, once I have a perfect mirror of your surface world – one slug for each carrier above – we will unite and become family. It makes me happy to think of that new world, and you will no doubt understand my happiness completely, and soon.

Mallum, Your Great Mother

"
 
The name "Mallum", translated from Latin, means "evil (thing)/disaster" (although the Latin word is spelled with one L), thus making her, quite appropriately, the mother of evil.
In the FunOrb game Armies of Gielinor, set during the God Wars, one of Zamorak's monsters is a sea slug, although it resembles Mother Mallum more than it resembles the common sea slug.
In Postbag from the Hedge, Mother Mallum states "It is tiring, for this world is more populous than any other we have encountered...", implying that she may have conquered worlds other than Gielinor in the past.
Mother Mallum's death from being crushed by a pillar has been joked about on the forums and is often used to describe either Salt in the Wound or quests that have yet to be released with low expectations. (Example: Next, they're going to drop a pillar on Lucien.)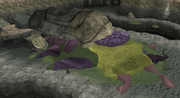 References
Edit