Monster Examine
Discuss

9
22,517pages
on this wiki
Monster Examine, when cast on a monster, tells you the monster's combat level, current life points, immunity to poison and maximum hit, as well as whether the monster can be a slayer assignment.
Curse spells that lowers Strength, such as Weaken and Enfeeble, does affect the maximum hit shown. However, this could be deceptive as the maximum hit does not go up like life points do even though the monster might have recovered from the spell, as long as you keep the Monster Examine interface open.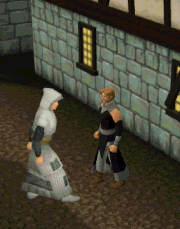 Monster Examine costs 289 coins for each cast.
Remember, you cannot use normal Magic or Ancient Magicks spells if you are using Lunar Magicks, except by use of the Spell Book Swap spell.
You must have completed Lunar Diplomacy to use Lunar Magicks, as well as Dream Mentor to gain access to this spell.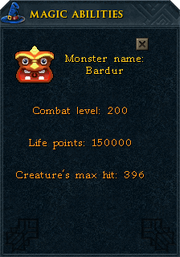 Monster Examine can be used on most of the NPCs in Ritual of the Mahjarrat, even your allies such as Sir Tiffy.
When Monster Examine is cast on a target, it does its defending animation, but this does not initiate combat.
If the target dies before you close the Monster Examine interface, the life points would read zero, but nothing else would be changed. It would remain zero even after it has respawned.
Monster Examine cannot be used on Koschei The Deathless or Solus Dellagar in the Dominion Tower, nor can it be used on the demon bosses found in Demon Flash Mobs.
Teleport

Lunar Home • Ourania • Moonclan • Waterbirth • South Falador • Barbarian Outpost • North Ardougne • Khazard • Fishing guild • Catherby • Ice Plateau • Trollheim

Group Teleport

Tele Group Moonclan • Tele Group Waterbirth • Tele Group Barbarian • Tele Group Khazard • Tele Group Fishing Guild • Tele Group Catherby • Tele Group Ice Plateau • Group Teleport to Trollheim

Skill-related

Bake Pie • Cure Plant • Fertile Soil • Humidify • Hunter Kit • Magic Imbue • Make Leather • Remote Farm • Spiritualise Food • Superglass Make • String Jewellery • Plank Make • Tune Bane Ore

Healing or Curing

Cure Other • Cure Me • Cure Group • Dream • Heal Other • Heal Group

Sharing
Others

Disruption Shield • Monster Examine • NPC Contact • Repair Rune Pouch • Spellbook Swap • Stat Spy • Vengeance Other • Vengeance • Vengeance Group • Borrowed Power

Removed

Energy Transfer
Teleport spells

Dungeon Home Teleport • Gatestone Teleport • Group Gatestone Teleport

Curse spells

Confuse • Weaken • Curse • Vulnerability • Enfeeble • Stagger

Cure spells
Other spells

Bones to Bananas • Bind • Low-level Alchemy • Create Gatestone • Snare • High-level Alchemy • Monster Examine • Humidify • Entangle • Vengeance Other • Vengeance • Vengeance Group