Monkey greegree
Discuss

22
22,528pages
on this wiki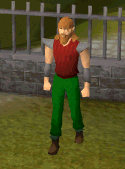 Wielding a Monkey greegree on Ape Atoll allows a player to turn into a Karamja monkey. While in this form, a player will be safe from Ape Atoll's inhabitants (the monsters become tolerant). To make a monkey greegree, a player must take monkey bones or a monkey corpse from a Karamja monkey and a Monkey Talisman to Zooknock in Ape Atoll Dungeon. Note that the dungeon is dangerous and preparation is needed in order to reach Zooknock. It is mainly used during the Monkey Madness quest where players need it to pretend they are the envoy of Karamja monkeys. When wielding the greegree, the Spellbook is disabled, but tablets can be used. If you are turned into a monkey, you can chop down trees on Ape Atoll, but you don't see the chop animation.
Combat Stats

| Class | Slot |
| --- | --- |
| None | |

Weapons
Main
Off
Damage
-
-
Accuracy
-
-
Type
-
-
Attributes
Armour rating

0

Life bonus

+0

Prayer bonus

0

Critical bonuses

0%

0%

0%

Compare item

[view] • [talk]
As a Hard Ardougne Task you need to hold a Karamjan Monkey greegree and talk to a monkey minder who will put you in the monkey cage. To get out, just unequip it, and talk to the monkey minder again.
Overall there are 8 greegrees, including the large and small ninja greegrees, large and small zombie greegrees, bearded, blue faced, normal gorilla greegrees and the Karamjan greegrees. Players can make different greegrees from the remains (bones) of monkeys that reside within Ape Atoll.
Greegrees of the same type will stack in a player's bank, so it can be a good idea to bring a few extra bones and talismans to Zooknock to prevent having to waste time later.
Despite the examine text, the remains of a monkey from Mos Le'Harmless will also work.
When transforming, it uses the same effect as the old animation of being hit by Wind Blast.
Monkey •

Zombie (small) (big) •

Ninja (small) (medium) •

Gorilla (bearded) (blue)