Ad blocker interference detected!
Wikia is a free-to-use site that makes money from advertising. We have a modified experience for viewers using ad blockers

Wikia is not accessible if you've made further modifications. Remove the custom ad blocker rule(s) and the page will load as expected.
Walkthrough
Edit
Start point
Speak to Brother Omad at the Monastery south of Ardougne.
Member requirement
Members only
Official difficulty
Novice
Length
Short (5-10 minutes)
Requirements
None
Items required
Items from the tool belt are not listed unless they do not work or are not automatically added.

A jug of water (You can buy a jug at the East Ardougne General Store and fill it during the quest)

Enemies to defeat
Optional: Two level 21 Thieves and a Level 25 Head thief
Transportation
Edit
Teleport to the Ardougne Lodestone and walk South, through the Zoo -OR- Use the fairy ring code DJP (Tower of Life) and walk a short distance West.
Getting started
Edit
The Secret Tunnel
Edit
Exit the monastery and head West (towards the Tree Gnome Village) and to the South of the nearby Clock Tower. South west of the 6 ladders leading down, there is a ring of stones, which is not visible on the mini map.
Stand in the ring of stones and climb down the ladder that appears.
Go South, enter the room with Thieves, and grab the Child's blanket on the table to the East.
Return to the monastery and talk to Brother Omad. (Chat options 1-2)
The Party
Edit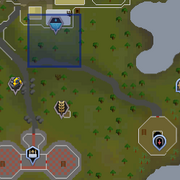 North of the Monastery, Cedric will be wandering around. Talk to him.
Talk to him again to give him a Jug of water.
Talk to him once more to give him a set of Logs.
Talk to Brother Omad.
Quest complete!