Molanisk
Discuss

5
22,527pages
on this wiki
Molanisk
Release date
20 March 2007 (Update)
Members?
Yes
Combat level
51
XP per kill
Unknown edit
Slayer level
39
Slayer XP
52
Assigned by
Vannaka
Always drops
Bones
Examine text
On wall: That white dot looks like an eye!
Off wall: A strange mole-like being.

Combat stats
LP
Max hit
520
53 (approx)
Attack
Defence
Ranged
Magic
Unknown
Unknown
Unknown
Unknown
Other
Immune to Poison?
Immune to Stun?
Yes
Unknown edit
Attack Speed

Speed 6 (Interval: 2.4 seconds)

Aggressive?
Poisonous?
No
No
Attack style
Weakness
Melee

Stab

[view template]

Molanisks are Slayer monsters that require level 39 Slayer to kill. A Slayer bell is necessary to fight them. Players should remember to bring a light source when fighting them, as they are only found underground. Despite what their level would suggest Molanisks do unusually low damage, meaning a relatively mid-level player with half-decent armour should easily be able to kill several of them.

Location
Molanisks reside in the Dorgesh-Kaan South Dungeon inside Dorgesh-Kaan, which can be gotten to either by Fairy ring AJQ, by Dorgesh-kaan sphere, or through the Dorgeshuun mine from Lumbridge. The Dorgesh-Kaan South Dungeon itself is located directly south of the city and can be accessed by going directly south until you come to the Dorgesh-Kaan agility course. Once there, a ladder can be used into the dungeon proper where, slightly to the south-east (take the first pathway to the east, near the water) a single Molanisk can be seen.
Strategy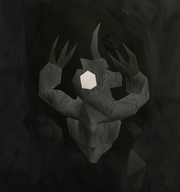 Molanisks are found attached to cave walls and must be lured off with a Slayer bell to allow players to attack them. When lured off the wall, they are aggressive towards the player who lured them off with the bell. Molanisks respawn relatively quickly, so players who want to conserve run energy can just stay at the same respawn location. However, after the 22 June 2009 update for run energy and extended agility courses, players with even mid-range levels of agility can usually recover their run energy while fighting a molanisk. For these players, it is thus faster to run between two molanisks, the best pair being those south of the fairy ring.
Molanisks have a low maximum hit and their attacks aren't very accurate, however their hits can mount up. Therefore, a small amount of food is recommended up to defence level 80 for larger tasks (over 100). An alternative would be picking up bones and using the spell Bones to Bananas or Bones to Peaches.
Drops
100%
Runes
Herbs
Other
Rare drop table drops
This monster drops items from the rare drop table.
The ring of wealth improves the chances if equipped but is not required to access the table.
Show/hide rare drop table

Item
Quantity
Rarity
GE Market Price
Coins
250; 381; 450; 3,000; 9,000; 12,000
Common
Not sold
Uncut sapphire
1
Common
1,142
Uncut emerald
1
Common
1,792
Uncut ruby
1
Common
3,576
Loop half of a key
1
Uncommon
8,548
Tooth half of a key
1
Uncommon
12,668
Uncut diamond
1
Uncommon
7,160
Uncut dragonstone
1
Rare
14,935
Dragonstone
1
Rare
9,966
Dragon dagger
1
Uncommon
17,221
Rune battleaxe
1
Rare
24,627
Rune javelin
5
Rare
1,270
Adamant javelin
20
Very rare
920
Rune spear
1
Very rare
12,048
Dragon spear
1
Very rare
36,856
Dragon dagger
50 (noted)
Very rare
861,050
Rune kiteshield
1
Very rare
32,145
Shield left half
1
Very rare
65,188
Dragon helm
1
Very rare
59,636
Adamant bolts
200
Uncommon
17,400
Rune arrow
150–200; 500
Rare
29,850–199
Onyx bolts
150
Rare
1,303,050
Battlestaff
200 (noted)
Rare
1,665,400
Air orb
1,000 (noted)
Rare
1,418,000
Fire orb
1,000 (noted)
Rare
1,612,000
Vecna skull
1
Very rare
138,745
Water talisman
1
Uncommon
4,721
Earth talisman
25–35 (noted)
Uncommon
19,825–27,755
Fire talisman
25–35 (noted)
Uncommon
50,450–70,630
Chaos talisman
1
Uncommon
227
Nature talisman
1
Uncommon
270
Pure essence
500–15,000 (noted)
Uncommon
42,500–1,275,000
Nature rune
47–77
Rare
5,217–8,547
Soul rune
20
Rare
2,420
Death rune
50; 121
Rare
93
Blood rune
50
Rare
8,150
Raw swordfish
125 – 250; 1,000 (noted)
Uncommon
37,750–302
Raw shark
250–500 (noted)
Uncommon
246,500–493,000
Big bones
150 – 500 (noted)
Uncommon
67,350–224,500
Coal
150–7,500 (noted)
Uncommon
41,700–2,085,000
Adamantite ore
150–800 (noted)
Uncommon
227,700–1,214,400
Silver ore
100 (noted)
Rare
10,500
Adamant bar
1,000–7,000 (noted)
Rare
3,168,000–22,176,000
Runite ore
100 (noted)
Rare
1,038,500
Rune bar
1,50,150 (noted)
Rare
13,002–1,950,300
Clean ranarr
33 (noted)
Uncommon
74,448
Clean toadflax
25–250 (noted)
Uncommon
95,050–950,500
Clean snapdragon
30–120 (noted)
Uncommon
106,530–426,120
Clean torstol
10–100 (noted)
Uncommon
118,420–1,184,200
Saradomin brew (4)
250 (noted)
Very rare
181,000
Watermelon seed
3
Uncommon
6,030
Yew seed
1–50
Rare
71,385–3,569,250
Magic seed
1–6
Rare
160,602–963,612
Palm tree seed
10
Rare
1,064,590
Snapdragon seed
1
Rare
2,196
Torstol seed
1–31
Rare
78,509–2,433,779
Fellstalk seed
2
Rare
932
Yew logs
100–20,000 (noted)
Rare
56,100–11,220,000
Trivia
Apparently, the molanisk is related to the Giant Mole in Falador garden, as it drops mole claws as well. The examine text also proves this.
In addition to not showing up as a yellow dot on the minimap while on the wall, they can also be seen from the floor above while doing the agility course, which further shows that they are coded as objects rather than NPCs.
Your player will automatically attack the molanisk just northeast of the fairy ring whether auto-retaliate is on or off while your player will not attack the one a few steps to the west unless auto-retaliate is on or you click attack yourself.
When making the first hit on a molanisk, you would not gain any experience. This glitch has been fixed.
Slayer Tower

Crawling Hand • Banshee • Infernal Mage • Bloodveld • Aberrant spectre • Gargoyle • Nechryael • Abyssal demon

Fremennik Slayer Dungeon

Cave crawler • Rockslug • Cockatrice • Pyrefiend • Basilisk • Jelly • Turoth • Kurask • Aquanite

Lumbridge Swamp Caves
Poison Waste Slayer Dungeon
Pollnivneach Slayer Dungeon

Banshee (Mighty) • Cave crawler (Monstrous) • Basilisk (boss) • Turoth (Mightiest and Swarming turoth) • Kurask (overlord) • Aberrant spectre

Meiyerditch Dungeon
God Wars Dungeon

Pyrefiend • Bloodveld • Spiritual ranger • Spiritual warrior • Spiritual mage

Jadinko Lair

Mutated jadinko baby • Mutated jadinko guard • Mutated jadinko male

Polypore Dungeon

Grifolaroo • Grifolapine • Ganodermic runt • Ganodermic beast

Daemonheim

Crawling hand • Cave crawler • Cave slime • Pyrefiend • Night spider • Jelly • Spiritual guardian • Seeker • Nechryael • Edimmu • Soulgazer

Others

Gelatinous Abomination • Desert Lizard • Mogre • Harpie Bug Swarm • Killerwatt • Molanisk • Terror dog • Brine rat • Fever spider • Mutated zygomite • Cave horror • 'Rum'-pumped crab • Dust devil • Skeletal Wyvern • Jungle strykewyrm • Desert strykewyrm • Dark beast • Ice strykewyrm

Specials

Bork • Skeletal horror • Phoenix • Jade vine(wild)

Slayer pets

| | |
| --- | --- |
| Soul Wars | Creeping hand • Minitrice • Baby basilisk • Baby kurask • Abyssal minion • TzRek-Jad |
| Social Slayer | |
| Other | Cresbot |