The Mogre Camp can only be accessed after and when saving Pirate Pete for Recipe for Disaster. You will require a fishbowl helmet and a diving apparatus to enter, as well as low weight. Speak to Murphy at Port Khazard to go diving.
Kelp, which can be used to make soda ash in the same way as seaweed and swamp weed, also grows here. Kelp must be turned into soda ash to be used with lunar magic spell superglass make.
Being underwater, the Mogre Camp is one of the few places where the brine sabre's special attack may be used.
Personalities
Edit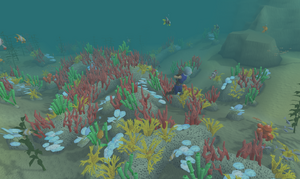 Fish Species
Edit
The nature of the Southern Sea in which the Mogre Camp exists has allowed for a large array of fish to inhabit the area. They cannot be caught, but can be seen swimming amongst the coral. The following species have been identified:
Asgarnia
Kandarin
Mogre Camp
Karamja
Kharidian Desert
Misthalin
Morytania
Fremennik Province
Feldip Hills
Wilderness
Troll Country & The North
Keldagrim
Tirannwn & Galarpos
Others
Ad blocker interference detected!
Wikia is a free-to-use site that makes money from advertising. We have a modified experience for viewers using ad blockers

Wikia is not accessible if you've made further modifications. Remove the custom ad blocker rule(s) and the page will load as expected.