Mithril rock
Discuss

8
22,502pages
on this wiki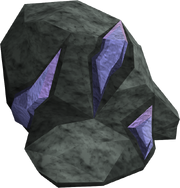 A mithril rock, also called mithrite[1], is a rock that can be mined through the Mining skill in various places throughout RuneScape.
Mithril ore can be mined with a Mining level of 55 or higher, granting 80 Mining experience and one Mithril ore. After being mined, a mithril rock takes an average of 3 minutes to respawn.
Locations
Edit
Free-to-Play
Edit
Members Locations
Edit
Respawn Rate
Edit
Mithril ore, like all other mined rocks, respawns at a rate inversely proportional to the number of people in the rock's RuneScape world. If the world is empty, the ore respawns in 4 minutes; if it is full (with 2000 players), it respawns in 2 minutes.
References
Edit
Standard Metals and Ores

Copper(Rock) • Tin(Rock) • Iron(Rock) • Silver(Rock) • Coal(Rock)(Concentrated) • Gold(Rock)(Concentrated) • Mithril(Rock) • Adamantite(Rock) • Runite(Rock)

Quest items

Blurite(Rock) • Daeyalt(Vein) • Elemental(Rock) • Rubium(Vein) • Lunar(Rock) • Sandstone(Rock) • Bane ore (Rock)

Dungeoneering

Novite(Rock) • Bathus(Rock) • Marmaros(Rock) • Kratonium(Rock) • Fractite(Rock) • Zephyrium(Rock) • Argonite(Rock) • Katagon(Rock) • Gorgonite(Rock) • Promethium(Rock)

Other

Clay(Rock) • Gems(Rock) • Granite(Rock) • Limestone(Rock) • Living minerals(Remains) • Rune essence(Mine) • Pure essence(Mine) • Crust (Mine) • Red sandstone (Mine) • Starlight ore (Source)