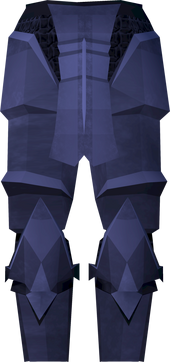 Mithril platelegs have the same bonuses and penalties as a Mithril plateskirt. A player with 66 Smithing can make it by using three mithril bars on an anvil while carrying a hammer, granting 150 Smithing experience. Mithril platelegs require a Defence level of 30 to wear. They can be bought at Louie's Armoured Legs Bazaar in Al Kharid.
Combat Stats
Skill requirements
30
Class
Slot
Melee
Weapons
Main
Off
Damage
-
-
Accuracy
-
-
Style
-
Attributes
Armour
99
Life points
0
Prayer
0
Strength bonuses

0

0

0

[view] • [talk]
Dropping monsters
Edit
Levels 1 to 99
Edit
Levels 100 and above
Edit
Disassembly
Edit
This item can be disassembled with the
Invention
skill.