A mithril grapple is used to grapple with Agility onto objects such as strong trees and rocks, or walls in order to cross Shortcuts. It is wielded in the arrows slot and used with any crossbow or salamander.
Sometimes, the grapple may break, so it is a good idea to have multiple grapples your inventory. When a grapple breaks, the following message appears in the player's chat interface: "After untying the rope, you find that your grapple is broken and useless".
As of 15 February 2011, some grapple spots no longer need you to bring your own grapple, as one may be stored in a Hidey-hole.
You can use an off-hand variant of a crossbow to grapple onto objects.
Producing a grapple
Edit
Use a mithril bolt with a Mithril grapple tip to produce an Mith grapple (unf), then use that on a rope to produce the mith grapple.
Required items
Edit
Grapple locations
Edit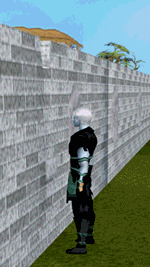 You will need a crossbow along with the grapple to perform these agility manoeuvres. This used to require a mithril crossbow or better (Dorgeshuun crossbow or Zanik's crossbow would also work), but has been tested to work with a bronze and blurite crossbow.
Drop sources
Edit
Disassembly
Edit
Ad blocker interference detected!
Wikia is a free-to-use site that makes money from advertising. We have a modified experience for viewers using ad blockers

Wikia is not accessible if you've made further modifications. Remove the custom ad blocker rule(s) and the page will load as expected.