A mithril grapple is used to grapple onto objects such as strong trees, rocks, or walls in order to cross Agility Shortcuts. It is wielded in the arrows slot and used with any crossbow or salamander.
Occasionaly the grapple may break, so it is a good idea to have multiple grapples your inventory. When a grapple breaks, the following message appears in the player's chat interface: "After untying the rope, you find that your grapple is broken and useless".
Some grapple spots do not require players to bring their own grapple, as one may be stored in a hidey-hole.
Players can use an off-hand variant of a crossbow to grapple onto objects.
Producing a grapple
Edit
Use a mithril bolt with a Mithril grapple tip to produce an Mith grapple (unf), then use that on a rope to produce the mith grapple.
Required items
Edit
Grapple locations
Edit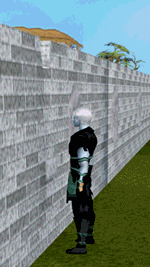 Players will need any crossbow or salamander along with the grapple to perform these agility manoeuvres. A Dorgeshuun crossbow or Zanik's crossbow will also work.
Drop sources
Edit
Disassembly
Edit