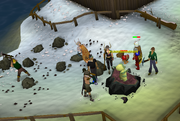 The Miscellania mining site is located on Miscellania, near the north-western part of the island. Fairy ring code CIP can be used to quickly access the mine. The mine contains coal, however no ores are gained from mining them. The mine's only purpose is to raise the player's popularity rating for Throne of Miscellania. Miner Magnus keeps any ores that the player mines. It is a possible landing site for a Shooting Star.
Asgarnia
Fremennik Province
Miscellania
Kandarin
Karamja
Kharidian Desert
Misthalin
Wilderness
Dwarven Mines
Other
Ad blocker interference detected!
Wikia is a free-to-use site that makes money from advertising. We have a modified experience for viewers using ad blockers

Wikia is not accessible if you've made further modifications. Remove the custom ad blocker rule(s) and the page will load as expected.