The Miscellania and Etceteria Dungeon is a dungeon that runs underneath Miscellania and Etceteria. It can be accessed during and after the Royal Trouble quest. It is accessed via the dungeon entrances on either island. The Miscellania entrance is closest to the subterranean village, while the Etceteria entrance is closest to the sea snakes. A chamber to the Giant Sea Snake is close to the Etceteria exit; however, this cannot be accessed once the Giant Sea Snake is defeated.
Personalities
Edit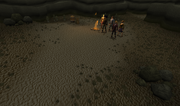 Asgarnia
Kandarin
Karamja
Kharidian Desert
Misthalin
Morytania
Fremennik Province
Miscellania and Etceteria dungeon
Feldip Hills
Wilderness
Troll Country & The North
Keldagrim
Tirannwn & Galarpos
Others
Ad blocker interference detected!
Wikia is a free-to-use site that makes money from advertising. We have a modified experience for viewers using ad blockers

Wikia is not accessible if you've made further modifications. Remove the custom ad blocker rule(s) and the page will load as expected.