Mining cape
Discuss

8
25,233pages
on this wiki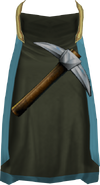 A
Mining cape
can be purchased for 99,000
coins
alongside the
Mining hood
from a dwarf at the
Mining Guild
entrance by players who have achieved level 99
Mining
. It is the
Cape of Accomplishment
, also commonly called a skill cape, for the Mining skill. Mining capes are brown-greyish in colour, have the mining skill icon, and have a light blue trim if the player has more than one level 99 skill.
The Mining cape is considered one of the most difficult skillcapes to achieve and is the 4th rarest Skillcape after the Farming Cape. However, with the introduction of Mineral deposits, Level 99 has been made significantly easier to obtain.
Combat Stats

Skill requirements
99

| Class | Slot |
| --- | --- |
| All | |

Weapons
Main
Off
Damage
-
-
Accuracy
-
-
Style
-
-
Attributes
Armour rating

33

Life bonus

0

Prayer bonus

2

Critical bonuses

2.0%

2.0%

2.0%

Compare item

A player wearing a trimmed Mining cape

A player wearing an untrimmed Mining cape

[view] • [talk]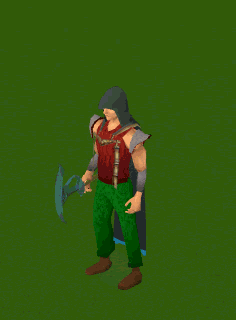 Currently, 40,520 people are able to own this cape (as seen on the highscores).
When first released it was possible for a player to buy a Mining cape even if they did not have 99 Mining. Although it is said that the players with the Mining capes below 99 have them removed, this is not true as a couple of accounts still have them. However, you cannot equip them, and trying to will give you the message "You need level 99 Mining to equip this item."
The number of players who have achieved 99 mining has increased significiantly since the release of Concentrated gold rocks and Concentrated coal rocks in the Living Rock Caverns as this has allowed for Mining to be done without paying much attention to the game, as opposed to before Concentrated gold and coal rocks where Granite had to be mined (this required constant attention).
On 25 May 2010 the Mining Cape emote was changed; the animation is smoother and the pickaxe used has been changed from steel to rune.
The golden shadow of the pickaxe resembles the inferno adze at the top of the down swing.
Capes

 Agility(Hood) •  Attack(Hood) •  Constitution(Hood) • Construct.(Hood) •  Cooking(Hood) •  Crafting(Hood) •  Defence(Hood) •  Divination(Hood) •  Dungeoneering(Hood) •  Farming(Hood) •  Firemaking(Hood) •  Fishing(Hood) •  Fletching(Hood) •  Herblore(Hood) •  Hunter(Hood) •  Magic(Hood) •  Mining(Hood) •  Prayer(Hood) •  Ranging(Hood) •  Runecraft(Hood) •  Slayer(Hood) •  Smithing(Hood) •  Strength(Hood) •  Summoning(Hood) •  Thieving(Hood) •  Woodcutting(Hood) •  Quest point(Hood)

Master capes

Agility • Attack • Constitution • Construction • Cooking • Crafting • Defence • Divination • Dungeoneering • Farming • Firemaking • Fishing • Fletching • Herblore • Hunter • Magic • Mining • Prayer • Ranging • Runecrafting • Slayer • Smithing • Strength • Summoning • Thieving • Woodcutting

Emote

Skillcape
Regular capes

 Cape (black) •  Cape (blue) •  Cape (green) •  Cape (orange) •  Cape (pink) •  Cape (purple) •  Cape (red) •  Cape (yellow)

Combat capes

 Cape of legends •  Fire cape •  Moonclan cape •  Lunar cape •  Obsidian cape •  TokHaar-Kal •  Saradomin cape •  Zamorak cape •  Guthix cape •  Reefwalker's cape(superior) •  Spirit cape •  Red cape •  Blue cape •  Team cape •  Warpriest of Armadyl cape •  Warpriest of Bandos cape •  Warpriest of Saradomin cape •  Warpriest of Zamorak cape •  Dragon Rider cape

Capes of Accomplishment

(m)

 Agility (master) •  Attack (master) •  Constitution (master) •  Construction (master) •  Cooking (master) •  Crafting (master) •  Defence (master) •  Divination (master) •  Dungeoneering (master) •  Farming (master) •  Firemaking (master) •  Fishing (master) •  Fletching (master) •  Herblore (master) •  Hunter (master) •  Magic (master) •  Mining (master) •  Prayer (master) •  Ranging (master) •  Runecrafting (master) •  Slayer (master) •  Smithing (master) •  Strength (master) •  Summoning (master) •  Thieving (master) •  Woodcutting (master) •  Quest point

Capes of Distinction(m)

 Classic cape •  Veteran cape (5 year)10 year •  Max cape •  Completionist cape •  Milestone capes(10)(20)(30)(40)(50)(60)(70)(80)(90)

Cloaks

 Ardougne cloak(1)(2)(3)(4) •  Fremennik cloak •  Ghostly cloak •  H.a.m. cloak •  Warlock cloak •  Witch cloak •  Web cloak •  Mourner cloak •  Saradomin cloak •  Zamorak cloak •  Guthix cloak •  Armadyl cloak •  Bandos cloak •  Ancient cloak •  Clan cloak •  Hati cloak •  Hallowed cloak •  Unhallowed cloak •  Third-age druidic cloak

Drapes
Non-combat, quest- and minigame-related capes

 Eagle cape •  Spotted cape •  Spottier cape •  Herald cape •  Wicked cape •  Cape of Validation •  Monkey cape •  Royal cape •  Dragon ceremonial cape •  Chocatrice cape •  RuneFest 2013 Cape

Castle Wars(m)

 Saradomin cloak •  Zamorak cloak •  Saradomin team cape •  Zamorak team cape •  Flag cape •  Kills cape •  Hobbyist cape •  Enthusiast cape •  Professional cape

Miscellaneous objects

 Ava's attractor •  Ava's accumulator •  Ava's alerter •  Bonesack(e) •  Diving apparatus •  Rambler's backpack •  Saradominist banner • Zamorakian banner