Mini-marm
Discuss

5
22,487pages
on this wiki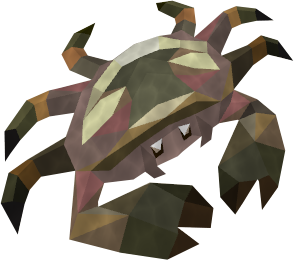 Mini-marm is a heim crab encountered by Thok during the Fremennik Saga Thok it to 'Em.
Thok does not eat the crab. It instead helps him to defeat opponents in the dungeon.
Mini-marm wanders off at one point and returns with his claws dripping blood and the Ferret of Doom's head as a trophy.
During the sequel, Thok Your Block Off, Thok once more finds Mini-Marm, but also finds a "lady friend", Mrs. Marm. At one point of the saga, a "Mini-mini-marm" plops into Thok's inventory.
The name may be a reference to the Austin Powers character Mini-me.
Mini-marm could possibly be based on Citizen Snips from Futurama.
Mini-marm may be the most powerful creature in RuneScape, considering it killed a level 9001 ferret of doom. This could be highly exaggerated however.