Mind rune
Discuss

0
22,498pages
on this wiki
This article is about the rune. For other uses, see
Mind
.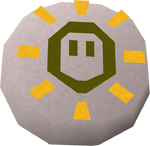 Mind runes are a type of non-elemental rune. Mind runes can either be bought from Aubury's Rune Shop in Varrock, created from rune essence through the Runecrafting skill, procured from drops by killing monsters, picked up from spawns on the ground, or obtained through trading with other players. Mind runes are used for the strike spells including Wind Strike, Water Strike, Earth Strike, and Fire Strike (which are the weakest spells in all books), as well as the Magic Dart spell. Other than low-level training and the usage of Magic Dart in Slayer tasks and the Barrows activity, mind runes are usually considered useless by many higher-levelled players.
The mind altar is located north of Falador, in between the Goblin Village and the Ice Mountain, very near to the Wilderness. Mind runes are craftable at level 1 using the Runecrafting skill. Crafting mind runes provides 5.5 Runecrafting experience per rune or pure essence used (154 xp for a full inventory).
Additionally, Aubury gives away 30 free mind and air runes every 30 minutes.
There is a Falador Task in the hard section to craft 140 Mind runes at the same time.
Respawn Locations
Lumbridge Castle (Ground floor, next to the southern stairway)
West of Varrock Palace but east of the Grand Exchange (head east from the Grand Exchange and you can't miss it.)
Spells
Free Spells
All players can cast these spells.
Member Spells
Only members can cast these spells:
Dropping monsters
Levels 1 to 24
Levels 25 to 49
Levels 50 and above
Store locations
This item can also be bought or sold at:
Elemental runes
Catalytic runes

Mind • Body • Cosmic • Chaos • Astral • Nature • Law • Death • Armadyl • Blood • Soul

Minigame runes