This article is about the random event. For the set of clothing, see
Mime clothing
.
This article is about the random event. For the NPC, see
Mime (NPC)
.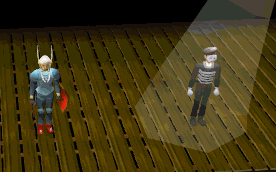 The Mime is a random event that was added on 2 August 2004 and removed on 24 October 2012, in which the Mysterious Old Man suddenly teleports players to the Mime artist's stage. The player must copy the mime's actions.
This event's reward holds a place among the more sought-after costumes: white gloves and black boots, which respectively match the Saradomin and all Black armour sets. It is recommended to obtain the two aforementioned costume parts over experience lamps due to the rarity of the event.
When the player performs enough correct actions, they will be awarded with a Random event gift.
If a player rotates the camera to look at their audience, they will see that there are three Strange Watchers. The colours of these three beings correspond with the colours of the three main gods. Also, the green watcher looks much like the statue of Guthix in the mage training arena. The red watcher resembles Zamorak and wears a red platebody of an unknown metal. There are a total of 84 chairs in the area and 81 are empty.
There is currently a glitch that causes player receiving this random event in the TzHaar City to end up in Lumbridge.
Following the graphics update, the Mime's face became transparent, leaving only his mask. This has since been fixed.
When the spotlight is over the mime, if you right click on yourself it still says "Examine Spotlight".
It is believed by some that the three members of the audience are the gods Guthix, Saradomin, and Zamorak.
In the darkness behind the stage, a spotlight is hidden directly behind and above the player. When you left click, it will give you a message saying "That's really bright!" which requires clicking "Click here to continue" prior to returning to the menu to choose which emote to use.
It is possible to rest during the event, and upon being prompted to select an emote, the player will stand up, do the emote, and sit back down. This is most likely a glitch, as trying to do an emote anywhere else while resting yields the message "Emotes aren't very restful."
Rewards

| | |
| --- | --- |
| Mime clothing | |
| Emotes | Glass box • Climb rope • Lean • Glass wall |

Related articles