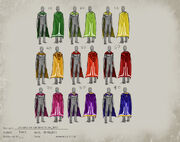 Milestone capes are a series of nine Capes of Distinction that are "earned" each time all of a member's skill levels (excluding elite skills like Invention) reach a multiple of 10. They were released on 3 May 2011, and first mentioned in the developers' blog "Capes of Distinction". Players who have levelled every skill above level 10, 20, 30, and so on, will be able to weave a special cape on a loom. Unlike other Capes of Distinction, this cape does not come with the accompanying hood, nor an emote. Each milestone cape comes with a defence bonus that increases with the level required for the cape. All nine of the milestone capes can be stored on the cape rack of a player-owned house.
To make a milestone cape, you need to weave one yourself at a loom. Making a cape requires one ball of wool per 10 levels. For example, the milestone cape (10) requires 1 ball of wool, while the milestone cape (40) requires 4 balls of wool. A total of 45 balls of wool are required to make all nine milestone capes.
The milestone capes appear to stick out more from the neck compared to other capes.
List of milestone capes
Edit
It used to be possible to make each cape with only the crafting requirement met. All skills were still required to actually wear the capes.
Milestone capes
Veteran capes
NPCs
Ad blocker interference detected!
Wikia is a free-to-use site that makes money from advertising. We have a modified experience for viewers using ad blockers

Wikia is not accessible if you've made further modifications. Remove the custom ad blocker rule(s) and the page will load as expected.