Milestone cape (70)
Discuss

2
22,528pages
on this wiki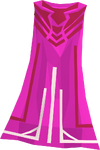 The milestone cape (70) is a cape available to members with at least level 70 in all skills. It can be woven at a Loom, found at the Falador farm, the Elf Camp in Isafdar, or the Crafting Tutor in Taverley. It requires seven balls of wool to weave, requires 70 Crafting and gives 70 experience. It can be made by anyone with the required crafting level, but can only be worn by those who have level 70 in all skills. This cape, along with all Milestone capes can be stored in a Player-owned house Cape rack. Along with all the other milestone capes, the cape does not have any bonus effects, but it is usually used to show off a player's total skill level.
To wield this cape, players must have at least 18,440,675 experience, a total level of 1750 and a combat level of 98.
As of 24 July 2012, only a maximum of about 259,000 players, or about .1295% of players, could wear this cape.
Combat Stats

| Class | Slot |
| --- | --- |
| Unknown edit | |

Weapons
Main
Off
Damage
-
-
Accuracy
-
-
Type
-
-
Attributes
Armour rating

0

Life bonus

+0

Prayer bonus

0

Critical bonuses

0%

0%

0%

Compare item

A player wearing a milestone cape (70)

[view] • [talk]
Regular capes

Cape (black) • Cape (blue) • Cape (green) • Cape (orange) • Cape (pink) • Cape (purple) • Cape (red) • Cape (yellow)

Combat capes

Cape of legends • Fire cape • Moonclan cape • Lunar cape • Obsidian cape • TokHaar-Kal • Saradomin cape • Zamorak cape • Guthix cape • Spirit cape • Soul Wars cape (red) • Soul Wars cape (blue)

Capes of Accomplishment(m)

Agility • Attack • Constitution • Construction • Cooking • Crafting • Defence • Dungeoneering (Master) • Farming • Firemaking • Fishing • Fletching • Herblore • Hunter • Magic • Mining • Prayer • Ranging • Runecrafting • Slayer • Smithing • Strength • Summoning • Thieving • Woodcutting • Quest point

Capes of Distinction(m)

Classic cape • Veteran cape (5 year)10 year • Max cape • Completionist cape • Milestone capes(10)(20)(30)(40)(50)(60)(70)(80)(90)

Cloaks

Ardougne cloak(1)(2)(3)(4) • Fremennik cloak • Ghostly cloak • H.a.m. cloak • Warlock cloak • Witch cloak • Web cloak • Mourner cloak • Saradomin cloak • Zamorak cloak • Guthix cloak • Armadyl cloak • Bandos cloak • Ancient cloak • Clan cloak • Hati cloak • Hallowed cloak • Unhallowed cloak

Drapes
Non-combat, quest- and minigame-related capes

Eagle cape • Firecape • Spottier cape • Herald cape • Wicked cape • Cape of Validation • Monkey cape • Royal cape • Dragon ceremonial cape

Castle Wars(m)

Saradomin cloak • Zamorak cloak • Saradomin team cape • Zamorak team cape • Flag cape • Kills cape • Hobbyist cape • Enthusiast cape • Professional cape

Miscellaneous objects

Ava's attractor • Ava's accumulator • Ava's alerter • Bonesack(e) • Diving apparatus • Rambler's backpack