Mieliki Tapio
Discuss

2
26,527pages on
this wiki

Mieliki Tapio is a character involved with the Big Chinchompa Hunter Distraction and Diversion. She is located in the south-east of the Tree Gnome Stronghold, just south of the Gnome Agility Course, and up a set of stairs.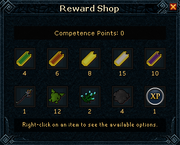 One of her lines of chat refers to Yelps, the host of the Squeal of Fortune: "Mieliki has rewards, yes, but people must help Nyriki to earn them. Mieliki is not some stupid goblin giving rewards for free."
She may be contacted using NPC Contact.