Walkthrough
Edit
Start point

Talk to King Arthur in Camelot.
Member requirement
Members only
Official difficulty
Intermediate
Official length
Medium
Requirements
The below skill requirements are not boostable unless stated otherwise.
Items required
Items from the tool belt are not listed unless they do not work or are not automatically added.

All the following items can be acquired during the quest:

Recommended

Activated lodestones in Falador, Seers' Village, and Varrock

Enemies to defeat
Getting started
Edit
Inside the keep
Edit
Climb to the top floor.
Attack Sir Mordred.
Spare his life to discover how to save Merlin.
Exit the keep and kill a bat if you don't already have bat bones.
Black candle
Edit
Talk to the candle-maker in Catherby.
Run west to the bee hives west of Catherby.
Talk to the Beekeeper to receive insect repellent.
Take the bucket.
Use the insect repellent on any bee hive.
Use the bucket on the same hive.
Return to the candle-maker.
Excalibur
Edit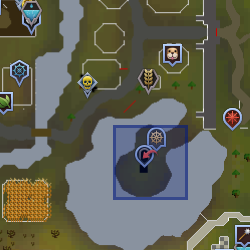 Talk to The Lady of the Lake in southern Taverley.
Teleport to Port Sarim.
Buy a loaf of bread from the food shop. Requires

24 coins

.
Enter the magic store or jewellery store to the north.
Give the beggar your bread.
Go to the Zamorakian temple south of the east bank in Varrock.
Check the chaos altar's inscription.
Return to Camelot and enter the gates.
Run north-east of the castle to the ritual site.
Stand on the star and light the black candle.
Drop the bat bones on the star.
The magic words are "Snarthon Candtrick Termanto". If you get this wrong you will have to get the black candle remade.
Finishing up
Edit
Enter the castle and climb the south-east tower.
Smash the giant crystal to free Merlin.
Talk to King Arthur.
Quest complete!