Mei was a member of the First Wizards' Tower. She is seen in a flashback during Rune Memories.
Mei is a Grey Wizard whose curiosity leads her to want to find the truth, regardless of whether or not it brings glory to her or her order. She is seen in the flashbacks talking with Kelavan when they discovered the answer to the teleportation problem.
She is associated with the air element, and apprentices under Temrin.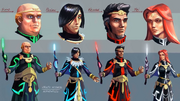 NPCs

First Wizards' Tower Wizards
Vortices

Items
Rewards

| | |
| --- | --- |
| First tower hat | |
| First tower robe top | |
| First tower robe bottom | |
| Title | |

Locations
Music
Miscellaneous
Former version
 Rune Mysteries (historical)
Ad blocker interference detected!
Wikia is a free-to-use site that makes money from advertising. We have a modified experience for viewers using ad blockers

Wikia is not accessible if you've made further modifications. Remove the custom ad blocker rule(s) and the page will load as expected.