Meegle can be found in the Terrorbird pen, in the western part of the Tree Gnome Stronghold. Her job is to breed the Terrorbirds. She is also an easy customer in the Gnome Restaurant minigame.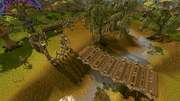 Restaurant NPCs
Items
Delivery destinations
Rewards
Ad blocker interference detected!
Wikia is a free-to-use site that makes money from advertising. We have a modified experience for viewers using ad blockers

Wikia is not accessible if you've made further modifications. Remove the custom ad blocker rule(s) and the page will load as expected.