Mask of Reflection
Discuss

4
24,256pages
on this wiki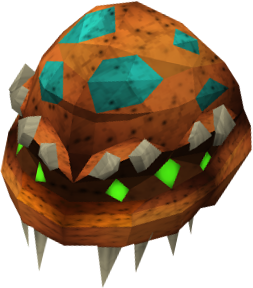 The Mask of Reflection provides several bonuses for players looking to train their Slayer skill, listed below. When the double drops, damage and xp boosts have expired, the mask will become the helmed version (Helm of Little Kings) which has similar benefits, but does not provide double drops, extra damage or an XP boost. After killing 500 Basilisks the Mask of Reflection will turn into a Helm of Little Kings.
It also counts as a mirror shield equipped, granting the use of dual wield and two-handed weapons.
It has a requirement of level 30 Defence to be worn.
Combat Stats

| Class | Slot |
| --- | --- |
| Magic | |

Weapons
Main
Off
Damage
-
-
Accuracy
-
-
Style
-
-
Attributes
Armour rating

84

Life bonus

+336

Prayer bonus

0

Critical bonuses

0%

0%

0%

Compare item

A player wearing the mask of reflection

Teleporting using the mask

[view] • [talk]
Guaranteed task
Once per day, while wearing the relevant mask, the next assignment the player receives will be basilisks. They will still need to go to a Slayer Master that normally assigns these creatures (Vannaka, Chaeldar, Sumona) – if they do not, the player will be told which Slayer Master assigns them. This does not work if they are in the process of setting up a co-op slayer assignment.
Daily teleports
Twice per day, this mask will teleport you directly to a choice of locations where basilisks can be found.

These locations are:

Slayer damage boost
The mask confers the same damage boost against basilisks (but only while on assignment) as the Slayer helm.
Slayer XP
Killing basilisks while wearing this mask will grant additional Slayer XP equivalent to the Slayer level required to fight them (in this case, 40). This is given regardless of the current assignment the player has, and in addition to assignment and/or contract xp. The XP awarded by the mask can be boosted by items.
Double drops
Killing basilisks while wearing the mask will grant additional drops for every 10th kill.
Trophy drops
The odds of receiving the basilisk head drop is doubled.
Kill count
Every creature killed is tallied, while the mask is worn. Each mask has a set amount of kills assigned to it that, once reached, "uses up" the Slayer XP and double drops effects, and turns the mask into a helm. The kill count continues to be tracked beyond this point, up to 999,999 kills.
Check kills
A right-click option outputs total kills of that creature. If the helm has yet to be unlocked, there's also a message to say how many more kills are needed to do so.
Change look
After the helm version has been unlocked, the player is free to switch between it and the mask version, as a cosmetic preference only – this does not restore the Slayer XP and double drop effects to the mask.
Slayer item
This mask will also act as a face mask and a mirror shield (for basilisks and cockatrice, but doesn't work on the Basilisk boss)
Equipment from Slayer Masters

Broad arrows • Earmuffs • Face mask • Insulated boots • Leaf-bladed spear • Nose peg • Mirror shield • Slayer gloves • Slayer's staff • Spiked gauntlets • Spiny helmet • Unlit bug lantern • Witchwood icon

Items from Slayer Masters

Bag of salt • Enchanted gem • Fishing explosive • Fungicide spray • Fungicide • Rock hammer • Ice cooler • Slayer bell • Broad arrow heads • Unfinished broad bolts

Purchased with Slayer reward points
Quest-related items
Slayer masks and helms

Mask of Broken Fingers Helm of the Dead Hand • Mask of Mourning Helm of Keening • Mask of Stone Helm of Petrification • Mask of Reflection Helm of Little Kings • Mask of Gelatin Jellyhead • Mask of Dust Helm of Devilry • Mask of the Kura Helm of the Kuraski • Mask of Granite Helm of Grotesquery • Mask of Vines Helm of Mutation • Mask of the Abyss Helm of Warping

Others

Black mask • Leaf-bladed sword (offhand) • Spiked helmet • Staff of light • Full slayer helmet • Hexcrest • Focus sight • Whip vine • Abyssal vine whip • Dragon slayer gloves
Yelps • Promotions (2012) • Controversies
Bonus spins
Cash bags
Prismatic lamps
Skill specific XP Lamps
Material packs (small)

Construction crate • Crafting crate • Farming crate • Herblore crate • Smithing crate • Summoning crate • Fletching crate

Material packs (large)

Construction crate • Crafting crate • Farming crate • Herblore crate • Smithing crate • Summoning crate • Fletching crate

Pets
Weapons

Wizards' Tower staff • Dominion Tower maul • Slayer Tower shortbow • White stag bow

Headgear

Legendary Horns • Closed helmet • Skullbuster hat • Headsplitter hat • Queen Black Dragon helm • Kalphite King helm • Sombrero

Lucky armour

Lucky Armadyl chainskirt • Lucky Armadyl chestplate • Lucky Armadyl helmet • Lucky Bandos tassets • Lucky Bandos boots • Lucky Bandos chestplate • Lucky dragon full helm • Lucky dragon chainbody • Lucky dragon platebody • Lucky spectral spirit shield • Lucky arcane spirit shield • Lucky elysian spirit shield • Lucky divine spirit shield

Lucky weapons

Lucky Bandos godsword • Lucky Zamorak godsword • Lucky Saradomin godsword • Lucky Armadyl godsword • Lucky dragon claws (Mainhand, Off-hand) • Lucky dragon 2h sword • Lucky Zamorakian spear • Lucky Saradomin sword • Lucky abyssal whip • Auspicious katana

Luchador masks

El Astado • El Chango Descarado • El Defensor • El Dios de la Guerra • La Diosa de Cristal • El Hombre Verde • La Justicia Voladora • El Padre de la Luz • El Serpiente • La Sombra

Exquisite weapons

Exquisite 2h sword • Exquisite battleaxe (Off-hand) • Exquisite claw (Off-hand) • Exquisite crossbow (Off-hand) • Exquisite halberd • Exquisite longsword (Off-hand) • Exquisite mace (Off-hand) • Exquisite orb • Exquisite shield • Exquisite shortbow • Exquisite spear • Exquisite staff • Exquisite sword (Off-hand) • Exquisite wand • Exquisite whip

Other

Coin of balance
Prismatic
Normal

| | |
| --- | --- |
| Combat | Attack • Strength • Defence • Ranged • Prayer • Magic • Constitution |
| Other | Crafting • Mining • Smithing • Fishing • Cooking • Firemaking • Woodcutting • Runecrafting • Dungeoneering |
| Members | Agility • Herblore • Thieving • Fletching • Slayer • Farming • Construction • Hunter • Summoning • Divination |

Bright

| | |
| --- | --- |
| Combat | Attack • Strength • Defence • Ranged • Prayer • Magic • Constitution |
| Other | Crafting • Mining • Smithing • Fishing • Cooking • Firemaking • Woodcutting • Runecrafting • Dungeoneering |
| Members | Agility • Herblore • Thieving • Fletching • Slayer • Farming • Construction • Hunter • Summoning • Divination |
Outfits

Experience boosting sets

| | |
| --- | --- |
| Artisan's outfit | Artisan's bandana • Artisan's top • Artisan's legs • Artisan's gloves • Artisan's boots |
| Blacksmith's outfit | Blacksmith's helmet • Blacksmith's top • Blacksmith's apron • Blacksmith's gloves • Blacksmith's boots |
| Botanist's outfit | Botanist's mask • Botanist's top • Botanist's trousers • Botanist's gloves • Botanist's boots |
| Diviner's outfit | Diviner's headwear • Diviner's robe • Diviner's legwear • Diviner's handwear • Diviner's footwear |
| First age outfit | First age tiara • First age amulet • First age cape • First age ring • First age bracelet |
| Shaman's outfit | Shaman's headdress • Fang of Mohegan • Shaman's poncho • Shaman's leggings • Shaman's hand wraps • Shaman's moccasins |
| Slayer masks | Mask of Broken Fingers • Mask of Mourning • Mask of Stone • Mask of Reflection • Mask of Gelatin • Mask of Dust • Mask of the Kura • Mask of Granite • Mask of Vines • Mask of the Abyss |
| Sous chef's outfit | Sous chef's toque • Sous chef's jacket • Sous chef's trousers • Sous chef's mitts • Sous chef's shoes |

Cosmetic outfits

Ramokee outfit

Ramokee headwear • Ramokee torso • Ramokee legs • Ramokee hands • Ramokee feet

Skirmisher armour

Skirmisher helm • Skirmisher cuirass • Skirmisher tassets • Skirmisher gloves • Skirmisher boots

Warband armour

| | |
| --- | --- |
| Warlord outfit | Warlord headdress • Warlord tunic • Warlord kilt • Warlord gloves • Warlord boots |
| Archon outfit | Archon headdress • Archon crest • Archon tassets • Archon gloves • Archon boots |
Prismatic pendants
Gems
Normal

| | |
| --- | --- |
| Combat | Attack • Strength • Defence • Ranged • Prayer • Magic • Constitution |
| Other | Crafting • Mining • Smithing • Fishing • Cooking • Firemaking • Woodcutting • Runecrafting • Dungeoneering |
| Members | Agility • Herblore • Thieving • Fletching • Slayer • Farming • Construction • Hunter • Summoning • Divination |

Prized Pendants of Skill

| | |
| --- | --- |
| Combat | Attack • Strength • Defence • Ranged • Prayer • Magic • Constitution |
| Other | Crafting • Mining • Smithing • Fishing • Cooking • Firemaking • Woodcutting • Runecrafting • Dungeoneering |
| Members | Agility • Herblore • Thieving • Fletching • Slayer • Farming • Construction • Hunter • Summoning • Divination |
Mad May's Wild Weekends

Barrel of monkeys • Monkey mace • See-no-evil monkey hat • Speak-no-evil monkey hat • Hear-no-evil monkey hat

Squeal of Neptune
Sizzling Summer

Sunbathe item • Candyfloss • Seaside rock • Beach ball • Water balloon • Ice cream cone hat • Summer sun ring • Summer storm ring • Summer barbecue • Shark fists (1-4 and off-hand 1-4)

Dragon ceremonial outfit

Dragon ceremonial hat • Dragon ceremonial breastplate • Dragon ceremonial greaves • Dragon ceremonial boots • Dragon ceremonial cape

Queen's Guard outfit

Queen's guard hat • Queen's guard shirt • Queen's guard trousers • Queen's guard shoes • Queen's guard staff

Hallowe'en
D&D tokens

Evil tree • Familiarisation • Fish Flingers • Penguin Hide and Seek • Phoenix Lair • Shooting Star • Tears of Guthix • Circus • The Pit • Troll Invasion • God Statues • Sinkholes • Daily • Weekly • Monthly

December Winter Weekends

TzHaar whips (1-7) • Sapphire blue present • Emerald green present • Ruby red present • Diamond white present • Dragonstone purple present

Other

Alchemist's amulet fragments (1-10) • Flying Goblin Hat • Swag Bag • Swagger Stick
Valentine items

Valentine heart • Chilli chocolate • Coconut cream • Dwarven delight • Noisette triangle key • Rose essence truffle • Vanilla fudge log

Tribute to Guthix
Starfire/Starfury

Starlight ore • Starborn diamond • Sword blueprints • Staff blueprints • Bow blueprints • Starfire sword • Starfire staff • Starfire bow • Starfury sword • Starfury staff • Starfury bow

Tattoos

Arcane Tattoo • Mystic Tattoo • Bold Tattoo • Intricate Tattoo • Marauder Tattoo • Tribal Tattoo

Horns
Cinco de Mayo

Plain wrap • Avocado sauce • Avocado wrap • Bean puree • Bean wrap • Spicy pepper sauce • Spicy pepper wrap • Soured cream • Sour cream wrap • Beef-filled flatbread • Chicken-filled flatbread • Fish-filled flatbread • Vegetable-filled flatbread • Corn chip platter

Lamp of the Djinn

Lamp of the Djinn • Ghul (Handle • Pot • Spout) • Ifrit (Handle • Pot • Spout) • Marid (Handle • Pot • Spout) • Sila (Handle • Pot • Spout) • Vetal (Handle • Pot • Spout) • Bottled genie

Crown of Seasons

Crown of Seasons • Flourishing seeds • Charred branches • Fallen leaves • Lush blossoms

Shaman's outfit

Spirit wolf blood • Spirit wolf skull • Spirit wolf pelt • Spirit wolf femur • Spirit wolf claws • Spirit wolf paws

Lucky Clover

One-leaf clover necklace • Two-leaf clover necklace • Three-leaf clover necklace • Four-leaf clover necklace

Golden chinchompa

Golden chinchompa • Food bag • Large food bag • Dried chillies • Curried lard nuggets • Pure caffeine • Thaumic chronometer

Mine Blowing

Black iron ring • Jewelled black iron ring • Dwarven black iron ore • Dwarven black diamond

Grinning idol

Bronze (Head • Body • Arms • Legs • Incomplete) • Jade (Head • Body • Arms • Legs • Incomplete) • Gold (Head • Body • Arms • Legs • Incomplete) • Ivory (Head • Body • Arms • Legs • Incomplete) • Obsidian (Head • Body • Arms • Legs • Incomplete)

Life & Dead masks

Starved mask of Amascut • Tormented mask of Icthlarin • Amascut relic • Icthlarin relic

Other

Alchemist's amulet fragments (1-10) • Transmutation tablet • Samid's gloves