For other Marvs, see Marv (disambiguation).

Marv is the man behind the hatch in the main hall of the Crucible. He gives new players tutorials, and also hands out rewards to players who have earned them at the cost of trophy bones. Whenever one purchases a reward from Marv he says "Mmmm the taste of victory."
When asking Marv about where the Crucible came from, his name is displayed as 'Rouge Marv' at two points during the conversation.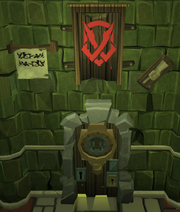 Ad blocker interference detected!
Wikia is a free-to-use site that makes money from advertising. We have a modified experience for viewers using ad blockers

Wikia is not accessible if you've made further modifications. Remove the custom ad blocker rule(s) and the page will load as expected.