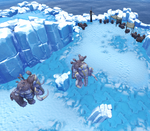 The Mammoth iceberg is a large iceberg that is the home to a number of Acheron mammoths. It was once a piece of Acheron that broke off for unknown reasons. Due to it floating away far enough that it was noticed by the Fremennik, players can access the iceberg by sailing the Fremennik ship from the Fremennik Province coastline pier, north of the lodestone close to the rock crabs.
NPCs
Slayer creatures
Drops
Challenge items
Locations
Mammoth iceberg
Ad blocker interference detected!
Wikia is a free-to-use site that makes money from advertising. We have a modified experience for viewers using ad blockers

Wikia is not accessible if you've made further modifications. Remove the custom ad blocker rule(s) and the page will load as expected.