Make-X is a function interface that facilitates the player in creating items.
When a player right-clicks on an item in their inventory, and selects make (if it is an option) or if a player uses an item in their inventory on another item in their inventory, the interface window will appear, displaying a number of controls and details including:
Which item the player will be making
The level required to make the item
The Grand Exchange value of the item being made
The high level alchemy value of the item being made
On the left, a display of items under the same category (in the image, the category is imphide armour).
An adjustable slide bar displaying how many of the item the player will make
Right-clicking the number will allow the player to type in the number of items they wish to make from their inventory. The spacebar can be pressed to begin without clicking the interface.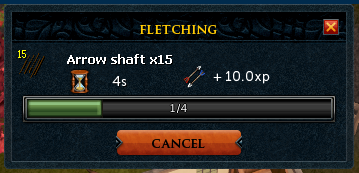 The process will stop when the player produces the specified number of items unless they select "cancel" or click on the mini-map/anywhere else in the game window. Production also stops if the player is attacked.
Applicable skills
Edit
These are the skills that use the make interface and the respective tabs.
Dungeoneering (cloth)

Cloth Spinning
Salve
Wildercress
Blightleaf
Roseblood
Bryll
Duskweed
Soulbell
Ectocloth
Runic
Spiritbloom

Dungeoneering (leather)

Protoleather
Subleather
Paraleather
Archleather
Dromoleather
Spinoleather
Gallileather
Stegoleather
Megaleather
Tyrannoleather

Furnace

Silver Casting
Gold Casting

Leatherwork

Leather
Imphide Armour
Carapace Armour
Spider Silk Armour
Carapace Armour
Batwing Armour
Snakeskin
Green Dragonhide
Blue Dragonhide
Red Dragonhide
Black Dragonhide
Royal Dragonhide
Yak-Hide
Enhanced Armour

Loom

General Weaving
Milestone Capes

Player-Owned Ports

Tradeable Ranged Gear
Untradeable Ranged Gear
Tradeable Misc. Gear
Untradeable Misc. Gear

Pottery Oven

Pottery
Cooking Urns
Fishing Urns
Mining Urns
Prayer Urns
Smithing Urns
Woodcutting Urns

Misc

Limestone
Glassblowing
Robust Glass
Sand
Seaweed net
Spinning Wheel
String Amulets
Snail Helmets
Tanner

Clay mould

Soft Clay
Mould Clay
Split Stone
Wushanko shell casting
Flatpacks

Plarlour flatpacks
Kitchen flatpacks
Dining room flatpacks
Bedroom flatpacks
Costume room flatpacks
Brewing
Brewing Ingredients
Churn

Milk Churning
Cream Churning
Butter Churning

Drinks
Dungeoneering

Cook Fish
Cook Potato
Potatoes+1 topping
Mushroom potatoes + fish
Fish potatoes + mushroom

Ingredients
Player-Owned Ports
Meats

Meat
Fish
Cake
Stew
Potato Toppings
Bacon
Other Recipes

Misc.
Pale energy products
Flickering energy products
Bright energy products
Glowing energy products
Sparkling energy products
Gleaming energy products
Vibrant energy products
Lustrous energy products
Elder energy products
Brilliant energy products
Radiant energy products
Luminous energy products
Incandescent energy products
Protean memories
Plant wood seedlings
Plant fruit seedlings
Scoop Calquat
Water wood seedlings
Water fruit seedlings
Ammo

Tip Arrows
Tip Ogre Arrows
Tip Bolts

Bows

String Bows
Join Crossbows
String Crossbows
Other Ammo

Dungeoneering (Branches)

Tangle gum
Seeping elm
Blood spindle
Utuku
Spinebeam
Bovistrangler
Thigat
Corpsethorn
Entgallow
Grave creeper

Dungeoneering (Other)

Feather Arrows
Tip Arrows
String Bows

Gems
Logs

Normal Wood
Achey
Oak
Willow
Teak
Maple
Mahogany
Yew
Magic
Blisterwood
Elder
Other

Misc.
Player-Owned Port

Thrown Weapons
Tradeable Scrimshaws
Untradeable Scrimshaws
Dungeoneering

Clean Herbs
Unfinished Potions
Offensive Potions
Defensive Potions
Skill Potions

Potions

Clean Herbs
Unfinished Potions
Potions
Barbariand Mixes
Clean Juju Herbs
Unfinished Juju potions
Juju Potions
Combination Potions

Misc.

Herblore Ingredients
Salamander tar
Other
Create Tablets
Enchant Bolts
Enchant Orb
Tune Baneore
Player-Owned Ports

Tradeable Melee Gear
Untradeable Melee Gear

Artisan's Workshop

Ingots, Tier I
Ingots, Tier II
Ingots, Tier III
Ingots, Tier IV
Heat Ingots
Miner's Burial Armour
Warrior's Burial Armour
Smith's Burial Armour
Bronze Tracks
Iron Tracks
Steel Tracks

Furnace

Ore Smelting
Steel Casting

Anvil

Bronze
Blurite
Iron
Steel
Mithril
Adamantite
Obsidian
Runite
Malevolent

Dungeoneering

Smelting
Novite
Bathus
Marmaros
Kratonite
Fractite
Zephyrium
Argonite
Katagon
Gorgonite
Promethium

Misc.
Pouches

Gold Charm Pouches
Green Charm Pouches
Crimson Charm Pouches
Blue Charm Pouches
Elder Charm Pouches
Summoning Scrolls

Dungeoneering

Bloodrager
Deathslinger
Stormbringer
Hoardstalker
Worldbearer
Skinweaver
Woodcutting
Edit
Fill Containers
Soften Clay
Make Dough
Hunting Bolts
Tele. Cooking Urns
Tele. Fishing Urns
Tele. Mining Urns
Tele. Prayer Urns
Tele. Smithing Urns
Tele. Woodcutting Urns
Released on 12 September 2005, Cooking was the first skill to use the Make-X interface.
The addition of the interface made training slower for click-intensive activities that could otherwise be sped up through the use of mouse keys, such as fletching bolts.
Ad blocker interference detected!
Wikia is a free-to-use site that makes money from advertising. We have a modified experience for viewers using ad blockers

Wikia is not accessible if you've made further modifications. Remove the custom ad blocker rule(s) and the page will load as expected.