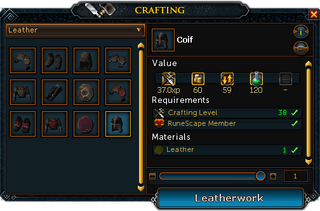 When a player right-clicks on an item in their
inventory
, and selects make (if it is an option) or if a player uses an item in their inventory on another item in their inventory, a prompt will come up in the middle of the screen, displaying a number of things:
What item the player will be making
The level required to make the item
The Grand Exchange value of the item being made
The high-alchemy value of the item being made
On the left, a display of items under the same catagory (in the image, the catagory is imphide armour).
An adjustable slide bar displaying how many of the item you will make
Right clicking the number will allow the player to type in the number of items he/she wishes to make from his/her inventory. The process will stop when the player runs out of the item he/she selected to make, or if the player selects "cancel," or if the player clicks on the mini-map, or anywhere else in the game window. It is also stopped when being attacked.
The addition of this to essentially everything has made it slower to train. Using Mouse Keys to fletch bolts for example, was much more quicker than using the Make-X function. Furthermore, Fletching with them whilst training other skills such as Agility, is now pointless as moving causes the character to stop.
Appliable skills
Edit
Control panel

| | |
| --- | --- |
| Top | Combat styles • Tasks • Stats (Target System) • Quest List(Quest Overview) • Inventory (Money pouch) • Worn Equipment (Equipment Stats) (Items Kept on Death) (Toolbelt) (Customisation) • Prayer screen • Spellbook |
| Bottom | Extras (Squeal of Fortune) • (Solomon's General Store) • (Customisation) • Friends List (Ignore List) • Friends Chat • Clan Chat • Options • Emotes • Music Player • Notes |

Minimap

Logout button • Advisor system • Compass • XP Counter • World map • Constitution Status Globe • Prayer Status Globe • Energy Status Globe • Summoning Status Globe • Money Pouch Globe (Price Checker)

Other

Assist System • Chat (Quick Chat)(Spam filter)(News) • Choose Option • Developer console • Game controls • Main Menu • Make-X • Trading interface