Join the RuneScape Wiki
Common Trade Index
111.38 

 +0.56
Opinion poll
What part of the upcoming release of Menaphos are you most looking forward to?
Results of the previous poll
How much information do you prefer Jagex to release about future updates? (1,474 votes)
Everything – I want to know as much as possible! —

35.8%

527
Most things – I enjoy watching trailers that spoil the movie's plot. —

10.6%

156
A little – I prefer to preserve an air of mystery. —

46.5%

685
Nothing – I like surprise updates. —

7.2%

106
Featured image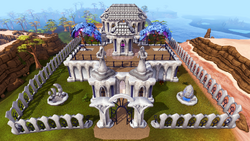 The mystic training site for mages.
Ad blocker interference detected!
Wikia is a free-to-use site that makes money from advertising. We have a modified experience for viewers using ad blockers

Wikia is not accessible if you've made further modifications. Remove the custom ad blocker rule(s) and the page will load as expected.