Join the RuneScape Wiki
Common Trade Index
115.68 

 -0.53
Opinion poll
Which combat mode do you use most often?
Results of the previous poll
What was your favourite April update? (1,217 votes)
Line Firemaking (Char improvements) —

8%

97
Other (e.g. Ninja updates) —

17.3%

211
Rebuilding Edgeville —

25.2%

307
Featured image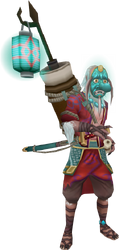 Shanao, the sky orphan, and Sojobo, Mask of the Ten Gu, who fight injustice together in the Wushanko Isles.