Mahogany fancy dress box
Discuss

0
22,515pages
on this wiki
Mahogany cos box
Level
80
Experience

280

Room
Costume room
Hotspot
Costume box
Materials
2 mahogany planks
Flatpackable
Yes
Exchange price

80

coins (update)
Buy limit
100
Examine text
A ready-to-assemble mahogany fancy dress box

1230940800:626, 1231286400:626, 1231545600:658, 1231632000:658, 1231977600:679, 1232064000:713, 1232582400:713, 1232755200:745, 1233014400:783, 1233187200:783, 1233273600:823, 1233792000:862, 1234051200:862, 1234224000:847, 1234656000:847, 1235174400:842, 1235606400:841, 1236124800:841, 1236211200:842, 1236729600:842, 1236902400:843, 1237507200:843, 1237593600:843, 1237766400:808, 1238198400:808, 1238457600:768, 1239062400:768, 1239321600:732, 1239926400:702, 1240531200:702, 1240617600:679, 1241049600:679, 1241395200:646, 1242000000:646, 1242172800:615, 1242777600:615, 1242864000:615, 1243036800:584, 1243641600:584, 1243728000:584, 1243814400:568, 1244160000:541, 1244419200:514, 1245024000:514, 1245196800:491, 1245628800:467, 1246320000:445, 1246838400:429, 1247356800:429, 1248220800:752, 1248393600:714, 1248739200:714, 1248912000:680, 1249603200:616, 1250035200:586, 1250208000:586, 1250640000:556, 1250812800:556, 1250985600:545, 1251331200:545, 1251417600:519, 1252022400:519, 1252108800:494, 1252368000:487, 1252972800:440, 1253491200:418, 1254096000:418, 1254355200:418, 1254528000:416, 1255219200:412, 1255564800:412, 1256169600:401, 1256601600:380, 1257292800:365, 1257897600:365, 1258156800:349, 1258761600:349, 1259193600:349, 1259280000:332, 1259798400:332, 1260144000:315, 1260748800:315, 1261008000:315, 1261094400:305, 1261526400:321, 1261699200:305, 1261958400:291, 1262304000:291, 1262563200:276, 1262822400:276, 1263254400:264, 1263859200:264, 1264204800:264, 1264291200:253, 1264636800:253, 1264982400:241, 1265587200:241, 1265846400:241, 1265932800:232, 1266537600:232, 1266883200:221, 1267488000:221, 1268092800:221, 1268265600:221, 1268784000:215, 1268956800:215, 1269561600:204, 1270080000:204, 1270339200:198, 1270771200:198, 1271116800:188, 1271721600:188, 1272326400:188, 1272499200:188, 1272844800:180, 1273104000:180, 1273968000:173, 1274572800:173, 1275004800:173, 1275264000:167, 1275868800:167, 1276214400:167, 1276387200:161, 1276992000:161, 1277424000:152, 1278028800:152, 1278288000:144, 1278892800:144, 1279065600:136, 1279152000:136, 1279843200:129, 1280620800:122, 1281225600:122, 1281398400:122, 1281571200:116, 1282176000:116, 1282262400:116, 1282348800:113, 1282953600:113, 1283040000:113, 1283212800:110, 1283731200:110, 1284076800:106, 1284681600:106, 1284854400:106, 1285286400:100, 1285891200:100, 1286064000:100, 1286496000:98, 1287100800:98, 1287273600:98, 1287705600:97, 1288310400:97, 1288742400:97, 1289088000:93, 1289692800:93, 1290297600:93, 1290384000:89, 1290988800:89, 1291766400:86, 1292371200:86, 1292976000:86, 1293062400:81, 1293667200:81, 1293840000:81, 1294185600:78, 1294790400:78, 1295136000:78, 1295222400:75, 1295827200:75, 1296086400:75, 1296259200:71, 1296777600:71, 1297123200:68, 1297728000:68, 1298160000:68, 1298246400:64, 1298851200:64, 1299110400:64, 1299283200:61, 1299888000:61, 1300320000:61, 1300492800:58, 1301097600:58, 1301443200:58, 1301529600:56, 1302134400:56, 1302739200:56, 1303344000:56, 1303948800:56, 1304121600:56, 1304208000:58, 1304812800:58, 1305158400:58, 1305417600:59, 1306022400:59, 1306368000:59, 1306454400:58, 1307059200:58, 1307491200:58, 1307664000:57, 1308268800:57, 1308528000:57, 1308960000:56, 1309564800:56, 1309737600:56, 1309910400:54, 1310515200:54, 1311120000:54, 1311724800:54, 1312156800:54, 1312329600:55, 1312934400:55, 1313193600:55, 1313625600:56, 1314230400:56, 1314316800:56, 1314576000:57, 1315180800:57, 1315785600:57, 1316390400:57, 1316995200:57, 1317081600:58, 1317686400:58, 1318291200:58, 1318550400:57, 1319155200:57, 1319760000:57, 1319932800:58, 1320537600:58, 1321142400:58, 1321747200:58, 1322352000:58, 1322956800:58, 1323043200:58, 1323129600:56, 1323734400:56, 1324339200:56, 1324944000:56, 1325116800:56, 1325203200:57, 1325376000:57, 1325462400:57, 1325548800:57, 1325635200:57, 1325721600:57, 1325808000:57, 1325894400:57, 1325980800:57, 1326067200:57, 1326153600:57, 1326240000:57, 1326326400:57, 1326412800:57, 1326499200:57, 1326585600:57, 1326672000:57, 1326758400:57, 1326844800:59, 1326931200:59, 1327017600:59, 1327104000:59, 1327190400:59, 1327276800:59, 1327363200:59, 1327449600:59, 1327536000:59, 1327622400:59, 1327708800:59, 1327795200:59, 1327881600:59, 1327968000:59, 1328054400:59, 1328140800:59, 1328227200:59, 1328313600:59, 1328400000:59, 1328486400:59, 1328572800:59, 1328659200:59, 1328745600:60, 1328832000:60, 1328918400:60, 1329004800:60, 1329091200:60, 1329177600:60, 1329264000:60, 1329350400:60, 1329436800:60, 1329523200:60, 1329609600:60, 1329696000:60, 1329782400:60, 1329868800:60, 1329955200:60, 1330041600:60, 1330128000:60, 1330214400:60, 1330300800:60, 1330387200:60, 1330473600:60, 1330560000:60, 1330646400:60, 1330732800:60, 1330819200:60, 1330905600:60, 1330992000:60, 1331078400:60, 1331164800:60, 1331251200:60, 1331337600:60, 1331424000:60, 1331510400:60, 1331596800:60, 1331683200:60, 1331769600:60, 1331856000:60, 1331942400:60, 1332028800:60, 1332115200:60, 1332201600:60, 1332288000:60, 1332374400:60, 1332460800:60, 1332547200:60, 1332633600:59, 1332720000:59, 1332806400:59, 1332892800:59, 1332979200:59, 1333065600:59, 1333152000:59, 1333238400:59, 1333324800:59, 1333411200:59, 1333497600:59, 1333584000:59, 1333670400:59, 1333756800:59, 1333843200:59, 1333929600:59, 1334016000:59, 1334102400:59, 1334188800:59, 1334275200:59, 1334361600:59, 1334448000:59, 1334534400:59, 1334620800:59, 1334707200:59, 1334793600:59, 1334880000:59, 1334966400:59, 1335052800:59, 1335139200:59, 1335225600:59, 1335312000:59, 1335398400:59, 1335484800:59, 1335571200:59, 1335657600:59, 1335744000:59, 1335830400:59, 1335916800:59, 1336003200:59, 1336089600:59, 1336176000:59, 1336262400:59, 1336348800:57, 1336435200:57, 1336521600:57, 1336608000:57, 1336694400:57, 1336780800:57, 1336867200:57, 1336953600:57, 1337040000:57, 1337126400:57, 1337212800:57, 1337299200:57, 1337385600:57, 1337472000:57, 1337558400:57, 1337644800:57, 1337731200:57, 1337817600:57, 1337904000:57, 1337990400:57, 1338076800:57, 1338163200:56, 1338249600:56, 1338336000:56, 1338422400:56, 1338508800:56, 1338595200:56, 1338681600:56, 1338768000:56, 1338854400:56, 1338940800:56, 1339027200:56, 1339113600:56, 1339200000:55, 1339286400:55, 1339372800:55, 1339459200:55, 1339545600:55, 1339632000:55, 1339718400:55, 1339804800:55, 1339891200:55, 1339977600:55, 1340064000:55, 1340150400:55, 1340236800:55, 1340323200:55, 1340409600:55, 1340496000:55, 1340582400:55, 1340668800:55, 1340755200:55, 1340841600:55, 1340928000:55, 1341014400:55, 1341100800:55, 1341187200:55, 1341273600:55, 1341360000:55, 1341446400:55, 1341532800:55, 1341619200:55, 1341705600:56, 1341792000:56, 1341878400:56, 1341964800:56, 1342051200:56, 1342137600:56, 1342224000:56, 1342310400:56, 1342396800:56, 1342483200:56, 1342569600:56, 1342656000:56, 1342742400:56, 1342828800:57, 1342915200:57, 1343001600:57, 1343088000:57, 1343174400:57, 1343260800:57, 1343347200:57, 1343433600:57, 1343520000:57, 1343606400:57, 1343692800:57, 1343779200:57, 1343865600:57, 1343952000:57, 1344038400:57, 1344124800:57, 1344211200:57, 1344297600:57, 1344384000:57, 1344470400:57, 1344556800:57, 1344643200:57, 1344729600:57, 1344816000:57, 1344902400:57, 1344988800:57, 1345075200:57, 1345161600:57, 1345248000:57, 1345334400:57, 1345420800:57, 1345507200:57, 1345593600:57, 1345680000:57, 1345766400:57, 1345852800:57, 1345939200:57, 1346025600:57, 1346112000:57, 1346198400:57, 1346284800:57, 1346371200:57, 1346457600:57, 1346544000:57, 1346630400:57, 1346716800:57, 1346803200:57, 1346889600:57, 1346976000:57, 1347062400:57, 1347148800:57, 1347235200:57, 1347321600:57, 1347408000:57, 1347494400:57, 1347580800:57, 1347667200:57, 1347753600:57, 1347840000:58, 1347926400:58, 1348012800:58, 1348099200:58, 1348185600:56, 1348272000:56, 1348358400:54, 1348444800:54, 1348531200:52, 1348617600:52, 1348704000:50, 1348790400:50, 1348876800:50, 1348963200:48, 1349049600:48, 1349136000:48, 1349222400:46, 1349308800:46, 1349395200:46, 1349481600:46, 1349568000:46, 1349654400:46, 1349740800:46, 1349827200:46, 1349913600:46, 1350000000:46, 1350086400:46, 1350172800:46, 1350259200:46, 1350345600:46, 1350432000:46, 1350518400:46, 1350604800:46, 1350691200:44, 1350777600:44, 1350864000:44, 1350950400:44, 1351036800:44, 1351123200:44, 1351209600:44, 1351296000:45, 1351382400:45, 1351468800:45, 1351555200:45, 1351641600:45, 1351728000:45, 1351814400:46, 1351900800:46, 1351987200:46, 1352073600:46, 1352160000:46, 1352246400:46, 1352332800:46, 1352419200:47, 1352505600:47, 1352592000:47, 1352678400:47, 1352764800:47, 1352851200:47, 1352937600:47, 1353024000:48, 1353110400:48, 1353196800:48, 1353283200:48, 1353369600:48, 1353456000:48, 1353542400:48, 1353628800:48, 1353715200:48, 1353801600:48, 1353888000:49, 1353974400:49, 1354060800:49, 1354147200:49, 1354233600:49, 1354320000:49, 1354406400:49, 1354492800:49, 1354579200:49, 1354665600:50, 1354752000:50, 1354838400:50, 1354924800:50, 1355011200:50, 1355097600:50, 1355184000:50, 1355270400:50, 1355356800:51, 1355443200:51, 1355529600:51, 1355616000:51, 1355702400:51, 1355788800:51, 1355875200:51, 1355961600:51, 1356048000:51, 1356134400:53, 1356220800:53, 1356307200:53, 1356393600:53, 1356480000:53, 1356566400:53, 1356652800:53, 1356739200:53, 1356825600:55, 1356912000:55, 1356998400:55, 1357084800:55, 1357171200:55, 1357257600:55, 1357344000:55, 1357430400:55, 1357516800:56, 1357603200:56, 1357689600:56, 1357776000:56, 1357862400:56, 1357948800:56, 1358035200:56, 1358121600:56, 1358208000:56, 1358294400:56, 1358380800:56, 1358467200:56, 1358553600:56, 1358640000:56, 1358726400:56, 1358812800:56, 1358899200:57, 1358985600:57, 1359072000:57, 1359158400:57, 1359244800:57, 1359331200:57, 1359417600:57, 1359504000:57, 1359590400:57, 1359676800:57, 1359763200:57, 1359849600:57, 1359936000:57, 1360022400:57, 1360108800:57, 1360195200:57, 1360281600:57, 1360368000:58, 1360454400:58, 1360540800:58, 1360627200:58, 1360713600:58, 1360800000:58, 1360886400:58, 1360972800:58, 1361059200:58, 1361145600:61, 1361232000:61, 1361318400:61, 1361404800:61, 1361491200:61, 1361577600:61, 1361664000:61, 1361750400:61, 1361836800:61, 1361923200:61, 1362009600:64, 1362096000:64, 1362182400:64, 1362268800:64, 1362355200:64, 1362441600:64, 1362528000:64, 1362614400:64, 1362700800:64, 1362787200:64, 1362873600:67, 1362960000:67, 1363046400:67, 1363132800:67, 1363219200:67, 1363305600:67, 1363392000:67, 1363478400:67, 1363564800:67, 1363651200:70, 1363737600:70, 1363824000:70, 1363910400:70, 1363996800:70, 1364083200:70, 1364169600:70, 1364256000:70, 1364342400:70, 1364428800:71, 1364515200:71, 1364601600:71, 1364688000:71, 1364774400:71, 1364860800:71, 1364947200:71, 1365033600:71, 1365120000:71, 1365206400:72, 1365292800:72, 1365379200:72, 1365465600:72, 1365552000:72, 1365638400:72, 1365724800:72, 1365811200:72, 1365897600:72, 1365984000:72, 1366070400:72, 1366156800:72, 1366243200:72, 1366329600:72, 1366416000:72, 1366502400:72, 1366588800:72, 1366675200:72, 1366761600:72, 1366848000:73, 1366934400:73, 1367020800:73, 1367107200:73, 1367193600:73, 1367280000:73, 1367366400:73, 1367452800:73, 1367539200:73, 1367625600:73, 1367712000:76, 1367798400:76, 1367884800:76, 1367971200:76, 1368057600:76, 1368144000:76, 1368230400:76, 1368316800:76, 1368403200:76, 1368489600:76, 1368576000:80, 1368662400:80, 1368748800:80, 1368835200:80, 1368921600:80, 1369008000:80
[view] • [talk]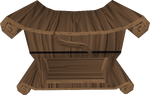 The Mahogany fancy dress box (also known as Mahogany costume box or Mahogany cos box in the Grand Exchange and task system) is a piece of furniture that can be built in the Costume room of a player-owned house with the Construction skill. Costume boxes are used to store costumes or fancy dresses from random events.
The mahogany costume box is used to store all types of costumes. Assuming the planks are bought from the Grand Exchange, they will cost about &0000000000004652000000

 4,652 to make.
Costume boxes can be flatpacked, and bought from the Grand Exchange. Building a flatpacked costume box does not require the actual Construction level.
Treasure chest

Oak treasure chest • Teak treasure chest • Mahogany treasure chest

Armour cases
Magic wardrobes

Oak magic wardrobe • Carved oak magic wardrobe • Teak magic wardrobe • Carved teak magic wardrobe • Mahogany magic wardrobe • Gilded magic wardrobe • Marble magic wardrobe

Cape racks

Oak cape rack • Teak cape rack • Mahogany cape rack • Gilded cape rack • Marble cape rack • Magical cape rack

Toy box
Costume boxes

Oak fancy dress box • Teak fancy dress box • Mahogany fancy dress box