Magnifying glass
Discuss

38
22,489pages
on this wiki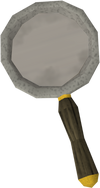 The Magnifying glass is the reward for completing the Cryptic Clue Fest, three-fifths of Cryptic Clue Fest II, Cryptic Clue Fest III and Cryptic Clue Fest IV. It is held in one hand and can be equipped with a shield. When on the Worn Equipment, players can right click and press 'Sleuth'. If you lose your magnifying glass, you can get a new one from Diango in Draynor Village, or from the Toy box of your Player-owned house. The magnifying glass has stats slightly lower than those of a bronze warhammer.
Combat Stats

| Class | Slot |
| --- | --- |
| Melee | |

Weapons
Main
Off
Damage
61
-
Accuracy
10
-
Type
Crush
-
Attributes
Armour rating

0

Life bonus

+0

Prayer bonus

0

Critical bonuses

0%

0%

0%

Attack speed

Average

Interval: 3.6 seconds

Compare item

A player wielding a magnifying glass

Sleuth, the emote for the magnifying glass

[view] • [talk]
The Magnifying glass closely resembles the Mirror obtained during the quest Nature Spirit.
On Sunday, 29 November 2009, the item became available and players were paying in excess of 50,000 coins for the items needed to acquire it.
Magnifying glasses were rereleased due to the 2010 Cryptic Clue Fest.
It can be taken to the island of Entrana because it has only negative bonuses.
The reward was going to be Roddeck's pipe as confirmed by a Jagex Moderator, but was changed to the magnifying glass before the event was released[1].
The reward was met with heavy criticism as not being worth the effort to complete the Cryptic Clue Fest. Retorting, Mod Paul M said "While I'd like to think that if you had some entertainment completing the quest then that would be a decent reward in itself, I do totally accept that it's not as good as if we'd mailed cats riding motorcycles to everyone who got the answer. Maybe next year though, maybe next year."
The item, when equipped, gives negative Attack and Strength bonuses, as most wieldable holiday items do, yet damage can still be dealt with it.
If the player had missed the first Cryptic Clue fest, they are given another opportunity to obtain this item by taking part in the second one. It can also be obtained in the third one if both the first and second are missed.
After the third Cryptic Clue fest, players who had obtained the Magnifying glass for the first time got a message saying, "You must have completed a Cryptic Clue fest to do this emote." when trying to perform the emote if they had not talked to Roddeck and obtained the investigator's outfit yet.
References
Edit
Easter

Easter egg • Bunny ears • Rubber chicken • Easter ring • Chicken set • Chocatrice cape • Easter carrot • Squirrel ears • Sunbeam crown • Icicle crown • Egg on face mask • Chocolate egg on face mask • Eggsterminator

Hallowe'en

Pumpkin • Halloween masks • Scythe • Zombie head • Jack lantern mask • Skeleton set • Grim reaper hood • Warlock / Witch costume • Web cloak • Eek • Bone brooch • Deathcon lanyard • Deathcon t-shirt • Hourglass • Sock mask • Buskin mask • Hallowed robes • Unhallowed robes • Ectoplasmator

Christmas

Christmas cracker • Partyhats • Santa hat • Yo-yo • Hats and scarves • Marionettes • Wintumber tree • Reindeer hat • Snow globe • Santa costume • Ice amulet • Ghost costume • Candy cane • Salty claws hat • Heimland games souvenir • Christmas wand • Sparkles • Santa beard

Thanksgiving
RuneFest

Flagstaff of festivities • Runefest 2011 hood • Golden scythe

Commemorative

Golden cracker and (hammer) • 200m glasses • 10th anniversary cake and candles

Cryptic Clue Fest

Magnifying glass • Investigator's outfit • Rock fragment • Avalani's robes • Mysterious book • Diamond sceptre • Diamond crown

Other

Lily of the valley • Oktoberfest pretzel • Carnival headdress • Skull mask