The Magic stone is used in the quest Tears of Guthix to make the stone bowl. It is mined from rocks near Juna within the Magic stone mine. You must have a sapphire lantern with you in order to access the stones, and partial completion of Tears of Guthix is required to make the stone bowl. Use the sapphire lantern on a light creature and select to go "across the chasm" and you will see the ores ahead.
According to Juna, the cave from where the rocks originate is infused with the power of Guthix in a similar manner to the tears themselves, explaining why the bowl crafted from the stone is capable of holding the Tears of Guthix.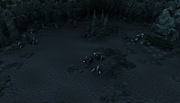 Disassembly
Edit
NPCs
Items
Locations
Music
Miscellaneous
Ad blocker interference detected!
Wikia is a free-to-use site that makes money from advertising. We have a modified experience for viewers using ad blockers

Wikia is not accessible if you've made further modifications. Remove the custom ad blocker rule(s) and the page will load as expected.