A magic skullball is an item that can be bought from Faruq's Tools for Games in Al Kharid for 12 coins. This item begins as just a "magic skullball," but with the "Choose-Answers" option, you can choose one out of four options to give the magic skullball. There is an option for "Yes" or "No" answers, longer answers such as "I don't know" or "Yes, I'd say so.", activities, and colours. The choosing of these answers are completely random, and the type of answer you would like is always open to change.
With the disabling of the dice bag in Runescape on 15 November 2011, players started using the skullball to gamble. As a response, the next day the option to send the readings from skullballs to a Friends Chat was disabled, and can now only be shown to the player with the skullball in their inventory.
Longer answers responses:
'Absolutely'.
'Ask again another time'.
'Don't hold your breath'.
'I wouldn't have a clue'.
'I'd be lying if I said no'.
'Nothing interesting would happen'.
'Not so sure about that'.
'Seems probable'.
'Surely not'.
'The fortunes are with you'.
'Without a shadow of a doubt'.
'Yes, I'd say so'.
Activities responses:
Free-to-Play:
'Enjoy mass combat in Clan Wars'.
'Experienced runecrafters can play the Great Orb Project'.
'Fight for glory and rewards in the Duel Arena'.
'Match weapons and wits against your foe in Fist of Guthix'.
Additional Members responses:
'For organised warfare go to Castle Wars'.
'Train at the Brimhaven Agility Arena'.
'Slay for your team in Soul Wars'.
'Warriors of varied experience can play Pest Control'.
'If you like fishing, try the Fishing Trawler'.
'Anyone can play in the Burthorpe Games Room'.
'Accomplished cooks can race to brew rum in Trouble Brewing'.
'Test planning and reactions in the Sorceress's Garden'.
'For a hearty combat challenge, play Barbarian Assault'.
'Use your skills on the sacred clay in Stealing Creation'.
Colours responses:
'Black'.
'Blue'.
'Green'.
'Orange'.
'Red'.
'Yellow'.
'Purple'.
'White'.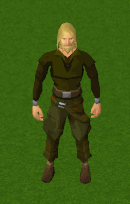 The quote, "Nothing interesting would happen." is a reference to the statement "Nothing interesting happens." which happens when you use an item on another item it has no use with.
The magic skullball is based off the Magic 8-Ball.