Magic shieldbow
Discuss

0
22,528pages
on this wiki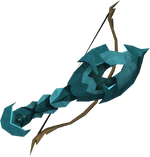 The Magic shieldbow is the strongest shieldbow that can be made. It can use arrows up to rune. The magic shieldbow requires a Defence level of 50 and Ranged level of 50 or higher to wield. Despite being only a level 50 weapon, even players with higher levels benefit from using this strong weapon due to its properties. It has the same stats and uses as the Magic composite bow.
Members can make a magic shieldbow through the Fletching skill at level 85. First, a player has to cut an unstrung magic shieldbow from magic logs, granting 91.5 Fletching experience. Then, the player must string the unstrung magic shieldbow with a bow string, granting a further 91.5 experience.
Like all shieldbows and unlike most other weapons, it incorporates a shield inseparably despite nothing that remotely resembles a shield is involved in its creation. Therefore, it provides armour and life point bonuses, and counts as a shield for Defence abilities, such as Rejuvenate. The attack range of the magic shieldbow is 8 spaces.
After the Evolution of Combat, the magic shieldbow is available for free players. Previously, a sighted magic shieldbow was a members object. It could not be equipped on a free-to-play world, and the only way to remove the sight is to log into a members world. One week later it was patched, and both members and free players can attach and detach it.
Combat Stats

| Class | Slot |
| --- | --- |
| Ranged | |

Weapons
Main
Off
Damage
265
-
Accuracy
850
-
Type
Arrow
-
Attributes
Armour rating

140

Life bonus

+755

Prayer bonus

0

Critical bonuses

0%

0%

0%

Attack speed

Average

Interval: 3.6 seconds

Compare item

A player wielding a magic shieldbow

[view] • [talk]
Profit analysis
Edit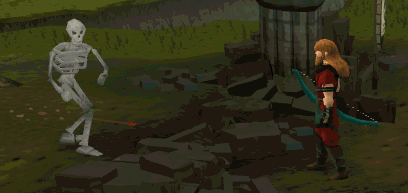 Magic shieldbows used to be high alched quite often for a profit. However, this led to them no longer being profitable in terms of gold or experience, seeing as many others things are far more cost efficient to train on.
Profit analysis
Magic shieldbow
Nature rune
Magic logs
Bow string
Net Coins
Notes
High Level Alchemy
High Level Alchemy 1,536
Ignore cost
Ignore cost
Ignore cost
1536
Ignore cost of Nature runes, Magic logs and Bow string.
High alch 1,536
-111
-1,624
-125
-324
Include true cost of Nature runes, Magic logs and Bow string.
Grand Exchange average price
GE 1,426
Ignore price
-1,624
-125
-323
Profit from fletching.
GE 1,426
+111
-1,624
-125
-212
Profit from selling Magic long and a nature rune
GE -87; High Alch -199. The difference between High Alching and selling in the GE is 237 coins
Shortbows

Shortbow (u) • Oak shortbow (u) • Willow shortbow (u) • Maple shortbow (u) • Yew shortbow (u) • Magic shortbow (u) • Quickbow

Shieldbows

Shieldbow (u) • Oak shieldbow (u) • Willow shieldbow (u) • Maple shieldbow (u) (sighted)• Yew shieldbow (u)• Magic shieldbow (u) (sighted)

Composite bows

Willow composite • Ogre comp • Yew composite • Magic composite

Special bows

Training • Chargebow • Kayle's chargebow • Barbed bow • Sacred clay • Ogre • Ogre comp • Gravite shortbow • Seercull • Dark • Crystal • Zaryte

Crossbows

Bronze crossbow • Blurite crossbow • Iron crossbow • Steel crossbow • Black crossbow • Mith crossbow • Adamant crossbow • Rune crossbow • Dragon crossbow • Armadyl crossbow • Chaotic crossbow•Royal crossbow

Javelins

Bronze javelin • Iron javelin • Steel javelin • Mithril javelin • Adamant javelin • Rune javelin

Throwing axes

Bronze throwing axe • Iron throwing axe • Steel throwing axe • Mithril throwing axe • Adamant throwing axe • Rune throwing axe

Other items

Cannon • Snowball • Chinchompa • Red chinchompa • Holy water • Hand cannon • Arrows • Sagaie • Bolas
Standard

Shieldbow • Oak shieldbow • Willow shieldbow • Maple shieldbow • Yew shieldbow • Magic shieldbow • Maple shieldbow (sighted) • Dark bow • Magic shieldbow (sighted)

Treasure Trails
Daemonheim

Tangle gum longbow • Seeping elm longbow • Blood spindle longbow • Utuku longbow • Spinebeam longbow • Bovistrangler longbow • Thigat longbow • Corpsethorn longbow • Entgallow longbow • Grave creeper longbow • Sagittarian longbow • Hexhunter bow