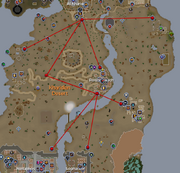 The magic carpet is a mode of transportation in the Kharidian Desert. The magic carpet system is operated by rug merchants.
There are two major hubs from which the carpets travel - Shantay Pass and South Pollnivneach. Carpets can travel in both directions between destinations, but other carpet destinations will only travel to one of these two hubs.
The carpets require 200 coins to use, but this falls to 100 coins after doing the Rogue Trader miniquest (desert section - Blackjack or Clothes). With a Ring of Charos (a), you can reduce the price to 75 coins. (If the ring of charos (a) is used without completing The Feud quest, the price is 100 coins.) When travelling in this mode, the carpet carrying the player moves towards the destination in running speed. While riding on the carpet, the user will not regain run energy.
However, by clicking "quick-travel", players can reach their destination almost immediately with an increased fee - 1,000 coins. This can also be halved to 500 coins with a ring of Charos (a).
Due to a previous incident, the right hand used to have to be free (no weapons). However, this is no longer the case.
Destinations
Edit
Ad blocker interference detected!
Wikia is a free-to-use site that makes money from advertising. We have a modified experience for viewers using ad blockers

Wikia is not accessible if you've made further modifications. Remove the custom ad blocker rule(s) and the page will load as expected.