Lunch is a goebie who features in the quest Call of the Ancestors. Together with Tunks and Peck they form the goebie trio. After the quest, Lunch can be found east of Kanatah and appears to be counting the muscles on his arms.
As part of the Mod Deg trading sequence, players can use the magic flute on Lunch repeatedly, until Lunch accepts it and trades it for the goebie disguise kit.
According to Acca Kanatah, their favorite meal of the day is breakfast.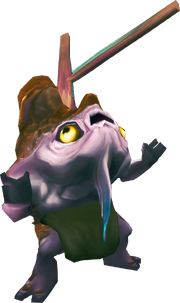 NPCs and items
Sequence items
Inhabitants
Items
Rewarded titles
Locations
Music
Activities
Related
Ad blocker interference detected!
Wikia is a free-to-use site that makes money from advertising. We have a modified experience for viewers using ad blockers

Wikia is not accessible if you've made further modifications. Remove the custom ad blocker rule(s) and the page will load as expected.