The Lumbridge teleport tablet is an item that can be used by any player to teleport just north of Lumbridge Castle. Players can create this item on either an Eagle lectern, Teak eagle lectern, or Mahogany eagle lectern as long as they have 1 Law rune, 3 Air runes, 1 Earth rune, and 1 Soft clay and at least level 31 Magic.
The player who uses it does not need to have the relevant Magic level to use this tablet.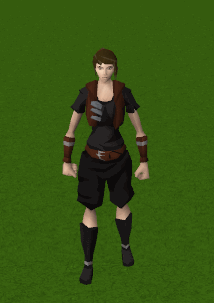 The following table shows the profit/loss made when using no staff, any air rune supplying staff, and any earth rune supplying staff to make a Lumbridge Teleport Tablet.
| Runes | Air Staff | Earth Staff |
| --- | --- | --- |
| 451 coins | 535 coins | 471 coins |
Lumbridge teleport
-
41 XP
-
1,387
Requirements
Magic level
31
Members only
Yes
Materials
Item
Quantity
Price
Total
Soft clay
1
440
440
Law rune
1
392
392
Air rune
3
28
84
Earth rune
1
20
20
Total price
936
Disassembly
Edit