The Lumbridge teleport tablet is an item that can be used by any player to teleport to the Lumbridge castle courtyard. Players can create this item on either an Eagle lectern, Teak eagle lectern, or Mahogany eagle lectern as long as they have 1 Law rune, 3 Air runes, 1 Earth rune, and 1 Soft clay and at least level 31 Magic.
This tablet can be made regardless of the player's current spell book.
The player who uses it does not need to have the relevant magic level to use this tablet.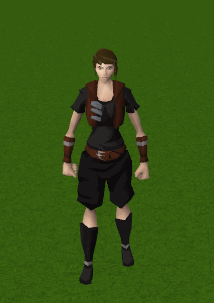 If one was to make 26 tablets, teleport to Edgeville with a mounted glory, bank, and teleport back to the house in 150 seconds, using an air staff, you would earn approximately 7.3066exp a second.
If you were to go from 40 magic to 99, it would roughly take 20 days 14 hours in-game time.
The following table shows the profit/loss made when using no staff, any air rune supplying staff, and any earth rune supplying staff to make a Lumbridge Teleport Tablet.
| Runes | Air Staff | Earth Staff |
| --- | --- | --- |
| 577 coins | 643 coins | 589 coins |
Calculators/Tablet - profit (or loss) from creating a Magic tablet on a lectern in a Player-owned house.
Disassembly
Edit