Lumbridge church
Discuss

2
22,531pages
on this wiki
RuneScape uses the British convention for floor numbering: Ground floor, first floor, second floor, etc.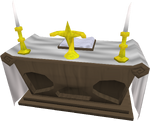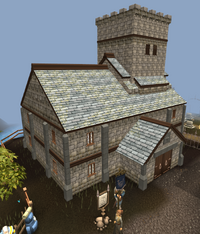 The Lumbridge Church is a 230+ year old church in south-east Lumbridge that follows the god Saradomin. The priest and caretaker of the church is Father Aereck. It is the start of the Restless Ghost quest, and used to be the location of the Prayer Tutor, before the troll warzone update. Players can complete part of the Beginner Lumbridge and Draynor Tasks there.
Ground Floor
Edit
The ground floor is the main part of the building and is also the location of Father Aereck. Players can play the organ, one of only two organs available to non-members that can still be played. When played, two skeleton hands will appear and play a music track that is not unlocked. Playing the organ counts as one of the Beginner Lumbridge and Draynor Tasks. As of 15 March 2010, you can now start "The Blood Pact" quest by speaking to Xenia in the graveyard.
First and Second Floor
Edit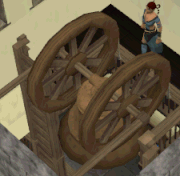 Players can climb the ladder on the ground floor, which allows them to access the first floor. Once there, there are two ladders that allow players to climb to the second floor. On that same floor, players can ring the church bell which is a Beginner Lumbridge and Draynor task.
Occasionally when in the chapel, an excerpt from the J.S Bach composition "Jesu, Joy of Man's Desiring" will play as background music. This is an ambient sound, so it might be difficult to hear if the player has the in-game music setting enabled (due to overlap of the tunes).