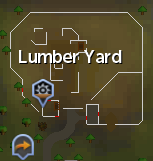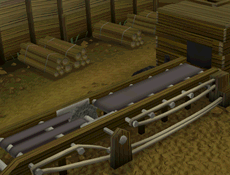 The Lumber Yard is a location northeast of Varrock. It is accessible to free players, however to use its features, you must be a member. Its main feature is the Sawmill operator, who is located in a small room along the yard's south-west wall. He is involved in the Construction skill: He can turn logs into planks for a fee, and he also sells bolts of cloth, three kinds of nails, and saws.
Players cannot enter the Lumber Yard through its main gate, nor can they enter the Sawmill operator's room. There is a hole in the yard's west wall, where members can enter the yard, or players can use the Lumber Yard Teleport got from completing Treasure Trails (any level), Other than curiosity, players typically enter the yard for one of these reasons:
The Sawmill with its Sawmill training operation is a separate complex located along the south-east wall of the Lumber Yard.
Ad blocker interference detected!
Wikia is a free-to-use site that makes money from advertising. We have a modified experience for viewers using ad blockers

Wikia is not accessible if you've made further modifications. Remove the custom ad blocker rule(s) and the page will load as expected.