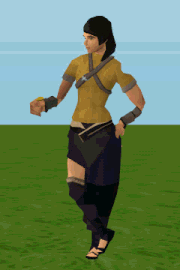 The lucky coin is an item that is available as a very rare Treasure Hunter reward. It can also be purchased for 4,000 rare item tokens from the rare token store.
Players can wield this coin to give themself a unique walk, run and idle animation while they are holding it. It is not possible to attack anything while holding the coin, yielding the message "You have an item equipped which prevents you from attacking." It is not possible to keepsake the coin.
The lucky coin also has useful skilling applications. Due to its unique sound effect that plays when it is equipped, while the player's character is idle, it can help alert the player when their character has stopped skilling; and become idle, thus activating the sound effect.
2013 (discontinued)
2014 (discontinued)
2015 (limited)
2016 (current)
2017 (new)
Ad blocker interference detected!
Wikia is a free-to-use site that makes money from advertising. We have a modified experience for viewers using ad blockers

Wikia is not accessible if you've made further modifications. Remove the custom ad blocker rule(s) and the page will load as expected.