Loyalty Programme Shop
Discuss

0
22,512pages
on this wiki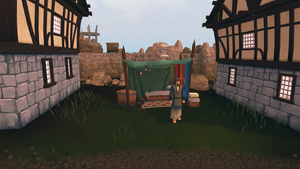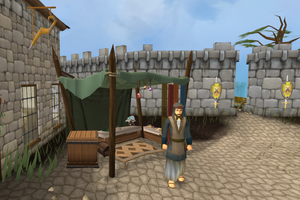 The Loyalty Programme Shop is where rewards from the Members Loyalty Programme can be purchased. There are two shops; one located in Burthorpe near the Warrior's Guild, and one in the market square in Varrock. These shops can be used to buy all auras, emotes, costumes, item recolouring and titles introduced through the programme. These rewards can only be bought by using Loyalty points. Points can be obtained by being a subscribing member of RuneScape, increasing monthly as memberships concur. Xuan runs these shops, you may find him near his tent at the either shop. Upon release date, most of the items were heavily discounted, and each LP member got 500 points.
The Auras are equipped in the aura slot. They can be purely cosmetic, add a combat bonus, or give a special effect. The auras are grouped into four classes, the highest class/tier being Tier 4.
You can buy emotes from the Loyalty Programme Shop such as Snow, Rofl, Storm, Surrender and many others.
You can purchase costume sets from the Loyalty Programme Shop. There are currently 12 costumes to buy.
Recolouring
Edit
The loyalty shop offers the ability to recolour certain items from a selection. This can be achieved by using the item on Xuan and choosing which colour you wish. Note, that when purchasing a recolour you gain the ability to do this as many times as you want.
The following items can be recoloured:
There are effects you can purchase to use on your character while only taking up the aura slot, so far only eye effects exist. There is no aura timer, it lasts as long as it is in your aura slot. Helmets that show your face and eyes will have the gaze showing through.
If you choose to buy a title, it will appear before your name with a colour according to its tier. Titles include from the cheapest, Sir/Dame (1,000 points), to the most expensive, The Awesome, Wunderkind, Witch King/Queen, The Magnificent, The Undefeated, The Strange, The Divine, The Fallen, and The Warrior (all 50,000 points).
Bank Boosters
Edit
According to Jagex, Bank Boosters, services from Solomon's General Store, were said also to be coming to the Loyalty Shop in the next couple weeks after initial release.[1][2]
| | | |
| --- | --- | --- |
| " | What's more, in consideration of our most loyal adventurers, in the coming weeks the bank booster will also be available not only from [Solomon's General Store], but also from the Loyalty Shop. | " |
However, there has been no further word on this prospective purchase.
Combat auras

Tier 1

Runic accuracy • Sharpshooter • Invigorate • Reverence • Poison purge • Knock-out • Friend in need

Tier 2

Runic accuracy • Sharpshooter • Invigorate • Reverence • Poison purge • Inspiration • Penance • Vampyrism • Equilibrium

Tier 3

Runic accuracy • Sharpshooter • Invigorate • Reverence • Poison purge • Knock-out • Ancestor spirits • Berserker • Dark magic • Regeneration

Tier 4

Runic accuracy • Sharpshooter • Invigorate • Reverence • Poison purge • Aegis
Skilling auras

Tier 1

Call of the sea • Five-finger discount • Greenfingers • Lumberjack • Quarrymaster • Tracker • Surefooted

Tier 2

Call of the sea • Five-finger discount • Greenfingers • Lumberjack• Quarrymaster • Tracker • Surefooted • Resourceful • Jack of trades

Tier 3

Call of the sea • Five-finger discount • Greenfingers • Lumberjack • Quarrymaster • Tracker • Wisdom

Tier 4

Call of the sea • Five-finger discount • Greenfingers • Lumberjack • Quarrymaster • Tracker
Wing auras

Tier 1
Tier 2
Tier 3
Tier 4
Cosmetic auras

Gaze

Abyssal gaze • Blazing gaze • Divine gaze • Infernal gaze • Mystical gaze • Nocturnal gaze • Serene gaze • Vernal gaze

Other