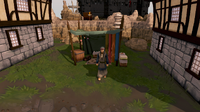 The Loyalty Programme Shop is where you previously bought rewards from the Members Loyalty Programme. It is today used for reclaiming auras, recolouring items and claiming your jack of trades reward. There are four shops; one located in Burthorpe near the Warrior's Guild with Xuan, one in the market square in Varrock with Xuan, one in the centre of Prifddinas with Dilwyn, and one in the Merchant district in Menaphos with Wafa. Upon release date, most of the items were heavily discounted, and each LP member got 500 points.
The loyalty shop was closed for refurbishment on 16 August 2013, in preparation for being merged with Solomon's General Store.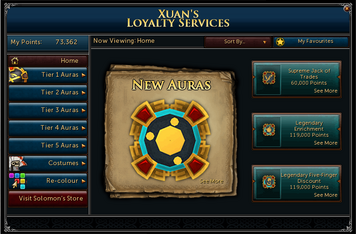 The Auras are equipped in the aura slot. They can be purely cosmetic, add a combat bonus, or give a special effect. The auras are grouped into five classes, the highest class/tier being Tier 5.
Recolouring
Edit
The loyalty shop offers the ability to recolour certain items from a selection. This can be achieved by using the item on Xuan and choosing which colour you wish. Note, that when purchasing a recolour you gain the ability to do this as many times as you want.
The following items can be recoloured: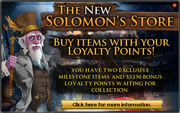 Due to larger than usual amounts of players on the RuneScape servers upon the day of release, the shop was originally unavailable to many players. RuneScape News
For the first 2 weeks the Dervish costume's price was reduced to 100 points and the rest to 400 points.
On 21 September 2011, new loyalty rewards were released, including 4 new costumes, 6 new emotes, 3 new re-colours of items and at least 15 new auras, all of which were tier 2 auras, except Wisdom, the first tier 3 aura ever released.
While playing in the fixed screen setting, some players would experience a glitch where the shop window would not completely close out after the player would exit it.
On 3 September 2013, it was updated so that you can now use loyalty points to buy several items from Solomon's General Store.
Bank boosters were said to be added to the Loyalty Shop, but never were due to difficulties. Instead of this, players were given a free +50 bank booster and later merged the Loyalty Shop with Solomon's General Store.[1][2]
References
Edit
Miscellaneous

Male Hairstyles
Female Hairstyles

Outfits
Accessories
Animations
Pets
Skilling

Tier 1
Tier 2
Tier 3
Tier 4
Tier 5
Prayer

Tier 1
 Corruption
 Harmony
 Salvation
Tier 2
 Corruption
 Harmony
 Salvation
Tier 3
 Corruption
 Harmony
 Salvation
Tier 4
 Corruption
 Harmony
 Salvation
Ad blocker interference detected!
Wikia is a free-to-use site that makes money from advertising. We have a modified experience for viewers using ad blockers

Wikia is not accessible if you've made further modifications. Remove the custom ad blocker rule(s) and the page will load as expected.