Walkthrough
Edit
Start point

Speak to Mabel in the barn north-east of Draynor Village
Member requirement
Members only
Official difficulty
Master
Length
Medium (~40 minutes)
Requirements

Quests:

twice: once at the start of the quest, and once for a task later on in the quest.
Items required
Items from the tool belt are not listed unless they do not work or are not automatically added.
Recommended
Enemies to defeat
A damsel in distress
Edit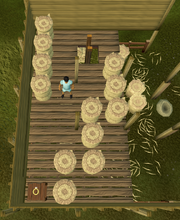 Talk to Mabel in the barn north-east of Draynor Village.
Go up the ladder.
Solve the hay bale puzzle:

As you arrive, go north once and push the one hay bale there all the way to the western wall.
Standing where you are, push a pair of hay bales at your immediate south twice.
Go one square east and push another pair of hay bales to the south.
Push the single hay bale directly west of you.

Finally, push the two hay bales to the south of you to clear the path. Pick up the ring.
Climb down the ladder.
Talk to Zenevivia walking around and ask her everything.
Search any hay bale to get a Twig and give it to her.
Speak to her again.
Wise Old Man
Edit
Go to Draynor Village and talk to the Wise Old Man.
After the cutscene, talk to him outside his house and agree to go to Rimmington on foot.
Once you arrive at the house portal, talk to him again.
When he leaves, walk to the house just east of the portal and talk to him once more.
Use the chisel on one of the tabs to chip it.
Open the tablet and solve the puzzle that appears.
Zenevivia's house
Edit
Stand next to the Wise Old Man and break the chipped teleportation tablet.
Try to enter the dungeon, then tell him to go into the dungeon first.
Speak to the Wise Old Man.
Use the steel bar on the clockmaker's bench in the workshop to make a clockwork.
Use the bench again to create a dummy.
Now put the dummy in the dungeon.

During this part, there will be a pulsating purple light around your screen, as seen on the picture, any players sensitive to flashing lights should proceed with caution.

Deactivate all the traps by walking on them and then return to the surface. Stair rooms have 1 trap each and rooms with pit guardians have 2 traps each (Except for the pit scabarite with 1).
The dungeon pit
Edit
The final battle
Edit
Talk to Zenevivia to start the battle:

Avoid the flames on the floor, they deal low damage.
Zenevivia uses magic spells and flames on the floor that can quickly deal around 600 damage.
She will sometimes use protection prayers so prepare to switch attack styles.

Talk to her.
Robbing the Wizards' Tower
Edit
You will return to Draynor Village.
Ask Zenevivia about Mabel's ring.
Go upstairs and look through the telescope and watch the Wizards' Tower Robbery.
Go downstairs and talk to Zenevivia and ask about the robbery and then for Mabel's ring.
Quest complete!
Ad blocker interference detected!
Wikia is a free-to-use site that makes money from advertising. We have a modified experience for viewers using ad blockers

Wikia is not accessible if you've made further modifications. Remove the custom ad blocker rule(s) and the page will load as expected.