Louis the Camel is a camel who was invited to attend the Queen of Snow's Christmas feast during the 2009 Christmas event. The camel can only be spoken to by people using a Camulet, so only members can understand what he says.
Louis complains that no one except the player has spoken to him since he arrived, passing off the human's inability to speak to camels as a feeble excuse. When Ebenezer Scourge traps the partygoers in the magic flames, he complains that no one asked him to join in, believing that humans bursting into flames is an odd Christmas tradition.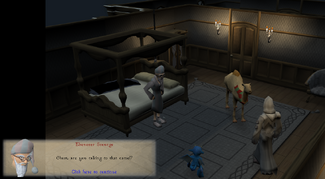 NPCs
Items
Rewards
Locations
Music
Scenery
Ad blocker interference detected!
Wikia is a free-to-use site that makes money from advertising. We have a modified experience for viewers using ad blockers

Wikia is not accessible if you've made further modifications. Remove the custom ad blocker rule(s) and the page will load as expected.