This article is about the items that monsters drop when they die. For the function that allows players to remove items from their inventories, see
Drop
.
"Loot" redirects here. For the clan feature, see
LootShare
.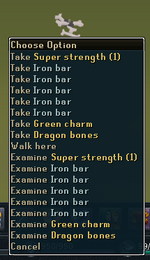 Drops, also known as Monster drops or Loot, are the items monsters leave for the killer when they die. Drops can be picked up by players. Drops often include bones, coins or other items. A lot of monsters have "100% drops", which is an item or items that are always dropped by that monster. 100% drops are most commonly bones or demonic ashes. Certain monsters have more than one type of 100% drops. A good example of monsters who have more than one type of 100% drops are metal dragons, who drop bones as well as metal bars of their corresponding metal composition.
Typically, the player who attacks the monster first will see the drop before other players, and the attacked NPC is marked with an asterisk (*) to denote such "ownership". This does not apply to certain bosses which still award their loot based on the amount of damage done.
Large monsters (that take up more than one square) will always drop their drops in the south-westernmost square. This also applies to any Ranged ammunition that falls to the ground when ranging those monsters.
In very rare occasions, when right clicked the exact same moment as the monster dies, a screen may appear with the 100% drop only (and arrows if ranged is used) and not with the other drops. Then if right clicked on the same spot again, the drops are present. This shows that RuneScape first lets the monster drop its 100% drop, and then quickly calculates the other drops and then they appear too. To improve the chance for this to happen, log on to a world with high ping.
Currently, when right-clicking to pick up drops, the member items are in a beige colour while non-member items are in a grey-blue colour.
Historical
Edit
Prior to the Evolution of Combat, drops were nearly always awarded to the player who dealt the greatest amount of damage before the monster died. After the Evolution of Combat, drops are given to the player who attacked first, regardless of which player dealt the most damage to the enemy.
After the release of PvP worlds, a randomised drop was given to the winner of a PvP battle. These drops included axes, pickaxes, platebodies, platelegs, potions, food, Corrupt dragon equipment, corrupted Ancient Warriors' Equipment (m), and brawling gloves (m). Since the reintroduction of pre-2007 Wilderness on 1 February 2011, PvP worlds no longer exist.
See also
Edit