Shieldbow (bow type)
Discuss

5
22,501pages
on this wiki


Members only?
Some
Ammunition?
Arrows
Two-handed?
Yes
Speed

Speed 4 (Interval: 3.6 seconds)
[view] • [talk]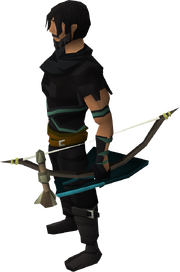 A shieldbow is a class of Ranged weapon that was introduced along with the Evolution of Combat. It is a longbow with a shield-like attachment that provides defensive bonuses to armour and life points. Shieldbows largely replaced longbows after the Evolution of Combat, which were simply slower versions of shortbows with a greater range. However, many longbows, such as the crystal bow and zaryte bow, were not converted into shieldbows, but instead to shortbows.
Effectively, a shieldbow is similar to a one-handed crossbow wielded alongside a shield. The primary differences are that a shieldbow uses arrows instead of bolts as its ammunition, its attack speed is Average, it deals slightly more damage, and it counts as a two-handed weapon for the purposes of some Ranged abilities. Because of its attachment, a shieldbow also counts as a shield for the purposes of most Defence abilities.
Shieldbows have a lower damage value than shortbows because of their defensive properties. The attack range of most shieldbows is 8.
Dungeoneering shieldbows
Edit
Shieldbows are available in Daemonheim (called longbows) alongside shortbows for use in training the Dungeoneering skill.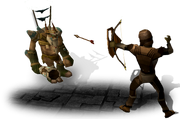 Shieldbows are unique in that they are the only weapon class to count as two item types at once (two-handed Ranged weapons and shields).
Like their melee counterparts, shieldbows enable the player to utilize the Rejuvinate ability.
Standard

Shieldbow • Oak shieldbow • Willow shieldbow • Maple shieldbow • Yew shieldbow • Magic shieldbow • Maple shieldbow (sighted) • Dark bow • Magic shieldbow (sighted)

Treasure Trails
Daemonheim

Tangle gum longbow • Seeping elm longbow • Blood spindle longbow • Utuku longbow • Spinebeam longbow • Bovistrangler longbow • Thigat longbow • Corpsethorn longbow • Entgallow longbow • Grave creeper longbow • Sagittarian longbow • Hexhunter bow