LolthenKILL is a player spoof involved in The Elder Kiln quest. She fights in the Fight Pits to kill several Ga'als. She must be killed during the quest. She attacks only with magic, using the spell Fire Surge. LolthenKILL's attacks can be fully blocked with Protect from Magic or Deflect Magic, and it is highly recommended to do so as her attacks regularly hit into the 300s and accurately.
She starts off fighting against the ranger FightpitPKer, so the pair is best left alone till one of them is victorious.
She appears to be wielding a Staff of Light that has been recoloured blue, an amulet of fury, Infinity boots, infinity gloves and full Virtus armour.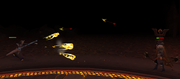 Combat Academy
Draynor Bank Robbery
The Elder Kiln
LolthenKILL
Vengeance
Other