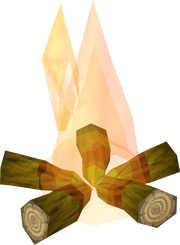 Logs
are
items
obtained from
trees
,
dead trees
,
evergreens
,
jungle trees
or
dying trees
with the
Woodcutting
skill. Players can burn these logs with the
Firemaking
skill, or turn them into
bows
or
arrow shafts
using the
Fletching
skill. These logs have no requirement to be cut or burned. They can be bought at
Polypore Dungeon Supplies
in the
Polypore Dungeon
or from the
Grand Exchange
.
Normal logs respawn in several places including: the roof of Lumbridge Castle, a house in Draynor Village, a house in Varrock, the Wizards' Tower, and in Brian's Archery Supplies in Rimmington.
Members can also turn these logs into bows and arrow shafts with the Fletching skill. It is currently the only log that can be used with the coloured firelighters given as Treasure Trail rewards, producing a coloured fire in five additional colours: red, blue, green, white or purple.
Members who have completed Enlightened Journey can also use these logs to travel to Entrana or Taverley using the Balloon Transport System.
Cutting logs is also a good way to earn money for low levelled players when sold at the Grand Exchange.
If a member has equipped a Seers' headband 1 or higher, the player will receive two logs from each tree, instead of one.
You can earn 60,000 to 80,000 coins per hour chopping logs.
Dropping monsters
Edit
| Monster | Combat level | Quantity | Rarity |
| --- | --- | --- | --- |
| H.A.M. guard | 12,18,22 | 1–3 | |
| Mogre | 60 | 1 | |
Experience from Logs
Edit
Each log gives 25 Woodcutting experience when cut.
Lighting a log gives 40 Firemaking experience.
Lighting a log in a bonfire gives 50 Firemaking experience.
Lighting a log in a fireplace gives 80 Firemaking experience.
Fletching 15 arrowshafts from a log gives 5 Fletching experience.
Making an unstrung shortbow gives 5 Fletching experience.
Making a longbow gives 10 Fletching experience.
Making a full crossbow stock gives 6 Fletching experience.
A large drop in the price of oak logs from the end of November to the beginning of December 2010 resulted in logs becoming the second most expensive free-to-play logs.
If each log were to be burned separately without being added to a bonfire, ashes may be picked up for a decent profit, with ashes selling for 300-350 each, on average.
Logs obtained from Tutorial Island look exactly the same as normal logs however they are untradeable and cannot be fletched.
When logs from Tutorial Island are lit the fire that is spawned on the ground has no option for logs to be added too it.
When logs from Tutorial Island are now burnt 0xp is given. It is not known if this is because you are greater than level 3 firemaking (The level cap for tutorial island) or because the ability to gain xp from the logs is an area effect only linked with tutorial island.
It is unknown how many players still have the logs from tutorial island in the bank, however it is not estimated to be very many at all. As they were never supposed to leave the island only a handful of players managed to smuggle the logs off the island before the dying and spawning in lumbridge glitch was patched.
They can be a very good source of money making for low level fletchers, as arrow shafts sell quite well. Even more when feathers are attached
At the beginning of 2012 the price increased majorly but has gone down since then but the price is still gradually rising.
Tools

Knife • Sacred clay fletching knife • Volatile clay fletching knife

Strings
Logs

Logs • Oak logs • Willow logs • Maple logs • Achey logs • Yew logs • Magic logs

Unstrung shortbows

Shortbow (u) • Oak shortbow (u) • Willow shortbow (u) • Maple shortbow (u) • Yew shortbow (u) • Magic shortbow (u)

Unstrung shieldbows

shieldbow (u) • Oak shieldbow (u) • Willow shieldbow (u) • Maple shieldbow (u) • Yew shieldbow (u) • Magic shieldbow (u)

Arrows

Arrow shaft • Feathers • Headless arrow • Bronze • Iron • Steel • Mithril • Broad • Adamant • Rune • Dragon

Ogre bows

Ogre arrow shaft • Flighted ogre arrow • Wolfbone arrowheads • Unstrung comp bow

Crossbow stock

Wooden • Oak • Willow • Teak • Maple • Mahogany • Yew • Magic

Crossbow limbs

Bronze • Blurite • Iron • Steel • Mithril • Adamantite • Runite • Dragon

Unstrung crossbows

Bronze • Blurite • Iron • Steel • Mithril • Adamant • Runite • Dragon

Bolts

Bronze bolts (unf) • • Blurite bolts (unf) • Silver bolts (unf) • Iron bolts (unf) • Steel bolts (unf) • Mithril bolts (unf) • Adamant bolts (unf) • Runite bolts (unf) • Abyssalbane bolts (unf) • Basiliskbane bolts (unf) • Dragonbane bolts (unf) • Wallasalkibane bolts (unf)

Gem bolt tips

Opal • Jade • Pearl • Red topaz • Sapphire • Emerald • Ruby • Diamond • Dragonstone • Onyx

Darts
Scrimshaws

Log-splitting scrimshaw (superior) • Rock-crushing scrimshaw (superior) • Tree-shaking scrimshaw (superior) • Gem-finding scrimshaw (superior) • Scrimshaw of vampyrism (superior) • Scrimshaw of strength (superior) • Scrimshaw of the elements (superior) • Scrimshaw of magic (superior) • Scrimshaw of cruelty (superior) • Scrimshaw of ranging (superior)

Others

Blisterwood stake • Blisterwood polearm • Blisterwood staff • Bakriminel bolt shafts • Bakriminel bolt tips