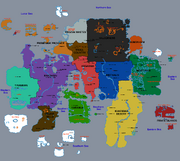 Locations are places that players may visit, such as cities and towns, but may also refer to places unreachable by players, such as the castle in A Tail of Two Cats.
The regions of RuneScape.  (F2P) marks a free-to-play location, while all other areas are members' only.
Note: East and West Ardougne are collectively known as "Ardougne" in this article, as neither are classed as cities individually despite their obvious independent government forms, they are one city.
| Location | Size | Kingdom | Image |
| --- | --- | --- | --- |
| The Abyss | Realm | Multiverse | |
| Al Kharid (F2P) | City | Kharidian Desert | |
| Annakarl (F2P) | Location | Wilderness | |
| Ape Atoll | Island | Ape Atoll | |
| Ardougne (East and West) | City, Capital | Kandarin | |
| Ashdale (F2P) | Island | N/A | |
| Bandit Camp (F2P) | Location | Wilderness | |
| Bandit Camp | Location | Kharidian Desert | |
| Barbarian Outpost | Village | Fremennik Province | |
| Barrows | Location | Morytania | |
| Bloodsplatter Isle | Island | Unknown | |
| Bonde Farm (F2P) | Location | Wilderness | |
| Bone Yard (F2P) | Location | Wilderness | |
| Botany Bay (F2P) | Location | Unknown, North of Morytania | |
| Braindeath Island | Island | Pirate isles | |
| Burgh de Rott | Village | Morytania | |
| Burthorpe (F2P) | City | Asgarnia | |
| Cairn Isle | Location | Karamja | |
| Canifis | Village | Morytania | |
| Carrallangar (F2P) | Location | Wilderness | |
| Catherby | Village | Kandarin | |
| Cosmic Plane | Realm | N/A | |
| Crash Island | Island | Unknown | |
| Crandor (F2P) | Island | Karamja | |
| Daemonheim (F2P) | City | Fremennik Province | |
| Dareeyak (F2P) | Location | Wilderness | |
| Dark Warriors' Fortress (F2P) | Location | Wilderness | |
| Darkmeyer | City, Capital | Morytania | |
| Death Plateau | Village | Troll Country | |
| Dorgesh-Kaan | City | Misthalin | |
| Digsite | Location | Misthalin | |
| Dragontooth Island | Island | Unknown | |
| Draynor Village (F2P) | Village | Misthalin | |
| Dream World | Realm | N/A | |
| Dwarven Mine (F2P) | Village | Asgarnia | |
| Eagle's Peak | Location | Kandarin | |
| Eastbridge | Location | Unknown | N/A |
| Edgeville (F2P) | Village | Misthalin | |
| Elf Camp | Location | Tirannwn | |
| Enchanted Valley | Realm | N/A | |
| Entrana | Island | Asgarnia | |
| Falador (F2P) | City, Capital | Asgarnia | |
| Fisher Realm | Realm | Realm of the Fisher King | |
| Fishing Platform | Island | Kandarin | |
| Fremennik spiritual realm | Realm | Fremennik Province | |
| Freneskae | Realm | Freneskae | |
| Ghorrock | Location | Troll Country | |
| Glacor Cave | Location | Troll Country | |
| Goblin Village (F2P) | Village | Asgarnia | |
| God Wars Dungeon | Location | Troll Country | |
| Gorak Plane | Realm | N/A | |
| Gunnarsgrunn (F2P) | Village | Misthalin | |
| Gu'Tanoth | Village, Capital | Feldip Hills | |
| Harmony Island | Island | Morytania | |
| Haunted Woods | Location | Morytania | |
| Hemenster | Village | Kandarin | |
| Iceberg | Island | Acheron | |
| Ice Path | Location | Troll Country | |
| Infernal Dimensions | Realm | Infernus | |
| Isafdar | Location | Tirannwn | |
| Jatizso | Village | Fremennik Isles | |
| Jiggig | Village | Feldip Hills | |
| Kanatah | Village | Mazcab | |
| Keldagrim | City | Troll Country | |
| Kethsi | Realm | Multiverse | |
| Killerwatt Plane | Realm | N/A | |
| Kharazi Jungle | Location | Karamja | |
| Kharyrll | Location | Morytania | |
| Land of Snow (F2P) | Realm | Land of Snow | |
| Lassar (F2P) | Location | Asgarnia | |
| Lava Maze (F2P) | Location | Wilderness | |
| Lighthouse | Location | Fremennik Province | |
| Lletya | Village | Tirannwn | |
| Lumbridge (F2P) | City | Misthalin | |
| Lunar Isle | Island | Lunar Isle | |
| Mage Arena | Location | Wilderness | |
| Meiyerditch | City | Morytania | |
| Menaphos | City, Capital (not open) | Kharidian Desert | |
| Miscellania and Etceteria | Island | Fremennik Isles | |
| Mort Myre Swamp | Location | Morytania | |
| Mort'ton | Village | Morytania | |
| Mos Le'Harmless | Island | Eastern lands | |
| Mountain Camp | Location | Fremennik Province | |
| Mudskipper Point (F2P) | Location | Asgarnia | |
| Musa Point (F2P) | Village | Karamja | |
| Nardah | Village | Kharidian Desert | |
| Neitiznot | Village | Fremennik Isles | |
| Otot | City | Mazcab | |
| Oo'glog | Village | Feldip Hills | |
| Paddewwa (F2P) | Location | Misthalin | |
| Pirates' Cove | Island | Northern Sea | |
| Pirates' Hideout | Location | Wilderness | |
| Piscatoris Fishing Colony | Village | Kandarin | |
| Pollnivneach | Village | Kharidian Desert | |
| Port Khazard | Village | Kandarin | |
| Port Phasmatys | Village | Morytania | |
| Port Sarim (F2P) | Village | Asgarnia | |
| Prifddinas | City, Capital | Tirannwn | |
| Primordial Realm | Realm | Multiverse | |
| Puro-Puro | Realm | N/A | |
| Rellekka | City, Capital | Fremennik Province | |
| Rimmington (F2P) | Village | Asgarnia | |
| Rock Island Prison | Islands | Southern Sea | |
| Rogues' Castle | Location | Wilderness | |
| Rune Essence Mine (F2P) | Realm | The North | |
| Saranthium | Location | Misthalin | |
| ScapeRune (F2P) | Realm | N/A | |
| Scorpion Pit | Location | Wilderness | |
| Seers' Village | Village | Kandarin | |
| Senntisten Part | Location | Misthalin, Asgarnia, Wilderness, Morytania | |
| Shilo Village | Village, Capital | Karmaja | |
| Ship Yard | Location | Karmaja | |
| Silvarea | Village | Misthalin | |
| Sophanem | City | Kharidian Desert | |
| Spider Realm (F2P) | Realm | N/A | |
| Spirit Plane | Realm | N/A | |
| Spirit Realm | Realm | Wilderness (Parallel) | |
| Tai Bwo Wannai | Village | Karmaja | |
| Tarddiad | Realm | Tarddiad | |
| Taverley (F2P) | Village | Asgarnia | |
| Tree Gnome Stronghold | City | Kandarin | |
| Tree Gnome Village | Village | Kandarin | |
| Troll Stronghold | Village | Troll Country | |
| Trollheim | Village, Capital | Troll Country | |
| Trollweiss Mountain | Location | Troll Country | |
| Tyras Camp | Location | Tirannwn | |
| TzHaar City | City | Karmaja | |
| Ullek | Location | Kharidian Desert | |
| Uzer | Location | Kharidian Desert | |
| Varrock (F2P) | City, Capital | Misthalin | |
| The Void | Realm | Multiverse | |
| Void Knights' Outpost | Island | Southern Sea | |
| Waterbirth Island | Island | Fremennik Province | |
| Wilderness Agility Course | Location | Wilderness | |
| Wilderness Volcano (F2P) | Location | Wilderness | |
| Witchaven | Village | Kandarin | |
| Yanille | City | Kandarin | |
| Yu'biusk | Realm | Multiverse | |
| Zanaris | Realm | Multiverse | |
Unreleased locations
Edit
These are locations that have been mentioned but never seen or accessed by the player (an asterisk (*) notes that the location has been confirmed to be revealed)*: