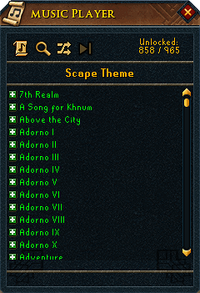 The following page lists all the music available in free worlds. As of 22 January 2016, free players can unlock over 359 music tracks (including tracks from Tuska Comes, the Summer Beach Party, and 2015 Christmas event, as well as a couple other discontinued tracks not listed here).
Non-members could previously unlock certain member-only music tracks, including Background, Dragontooth Island, Legion, Gaol, Sad Meadow, and Underground. These were moved to P2P areas, and as such are discontinued. For the full list of unlockable members' music, see here.
When Gnomecopter Tours were released, Jagex apparently wished to cap the non-member limit of songs at 150 instead of 152, so two of the Gnomecopter-obtainable songs were removed from free-to-play (Background and Narnode's Theme), yet Dragontooth Island remained to make an even 150.
A list of requirements to unlock all current F2P tracks:
If it's no longer possible to unlock a track in F2P, please add "discontinued" in the description.
Rammernaut - Rammernaut's boss room in Daemonheim
Remnants - unlocked in the Zamorak Camp during World Event 1 (Battle of Lumbridge)
Rooftops - Stolen Hearts quest
Royale- Unlocked at unknown location, possibly discontinued
Sad Meadow - Discontinued (Now at West Ardougne)
Safety in Numbers - Stronghold of Player Safety Dungeon, where the cockroaches are.
Sagittare - Sagittare's boss room in Daemonheim
Sands of Time - South of Al Kharid
Saradomin Camp - unlocked in the Saradomin Camp during World Event 1 (Battle of Lumbridge)
Saradominists - unlocked in the Saradomin Camp during World Event 1 (Battle of Lumbridge)
Scape Bold - Unlocked automatically, new Runescape 3 Theme
Scape Dark - Unlocked at White Wolf Mountain, new Runescape 3 Theme
Scape Hunter - Unlocked automatically
Scape Main - Unlocked automatically, older soundtrack of RuneScape
Scape Melancholy - Unlocked automatically, new Runescape 3 Theme
Scape Original - Unlocked automatically, older soundtrack of RuneScape
Scape Sad - Level 9 Wilderness southwest of Daemonheim/the Demonic Ruins in Wilderness
Scape Santa - Unlocked automatically, 2004 Christmas event music track
Scape Scared - Unlocked automatically, 2005 Hallowe'en event music track
Scape Slow - Unlocked in Lumbridge, new Runescape 3 Theme
Scape Soft - Area North of Falador
Scape Summon - Unlocked automatically, main tune during the release of Summoning
Scape Theme - Unlocked automatically, main tune of RuneScape
Scape Wild - Wilderness, south of the Wilderness Volcano
Sea Shanty I - Upon entering Musa Point in Karamja/Cap'n Arnav random event
Sea Shanty XMAS - 2006 Christmas event or any event thereafter
Seasonal Sports - 2010 Christmas event or any event thereafter
Second Harmony - West of Gunnarsgrunn, south of Dwarven Mine
The Shadow - Unlocked at Crandor
Shadow-forger Ihlakhizan - Shadow-forger Ihlakhizan's boss room in Daemonheim
Shantay Pass - South of Al Kharid
Shine - Duel Arena hospital
Shining - North of the Graveyard of Shadows in the Wilderness (previously unlocked at the Bone Yard)
Silent Knight - 2009 Christmas event or any event thereafter
Skirmish - Unlocked during The Death of Chivalry Quest
Skullery Jam - Stolen Hearts quest
Smorgasbord - 2009 Christmas event or any event thereafter
Spirit - Cooks' Guild area
Splendour - Discontinued
Spring Song - 2011 Easter event or any event thereafter
Stand-off - Stolen Hearts quest
Starlight - Asgarnian Ice Caves, North of Mudskipper Point
Stealing Creation - unlocked by entering Stealing Creation at release (discontinued)
Stomp - Stomp's boss room in Daemonheim
Taverley Adventure - Taverley area
Taverley Ambience - Taverley area
Taverley Dreams - Taverley area
Taverley Enchantment - Taverley area
Taverley Folk - Taverley tavern
Taverley Frolics - Taverley tavern
Taverley Lament - Taverley area
The Stalker - Stolen Hearts quest
Tiptoe - In the Draynor Manor cellar
To'Kash the Bloodchiller - To'Kash the Bloodchiller's boss room in Daemonheim
Tomorrow - Coastline south of Port Sarim
Tournament! - Unlocked automatically (formerly Duel Arena)
Tremble - Unlocked during Death Plateau
Tribal2 - Discontinued; unknown source
Trick or Treat? - 2009 Hallowe'en event or any event thereafter
Troubled - West of the Bandit Camp in the wilderness
Tzhaar City I - Unlocked with TzHaar Quest, Minigame and Graphical Rework (discontinued)
Tzhaar City II - Unlocked with TzHaar Quest, Minigame and Graphical Rework (discontinued)
Tzhaar City III - Unlocked with TzHaar Quest, Minigame and Graphical Rework (discontinued)
Tzhaar City IV - Unlocked with TzHaar Quest, Minigame and Graphical Rework (discontinued)
Tzhaar City V - Unlocked with TzHaar Quest, Minigame and Graphical Rework (discontinued)
Tzhaar Supremacy I - Unlocked with TzHaar Quest, Minigame and Graphical Rework (discontinued)
Tzhaar Supremacy II - Unlocked with TzHaar Quest, Minigame and Graphical Rework (discontinued)
Tzhaar Supremacy III - Unlocked with TzHaar Quest, Minigame and Graphical Rework (discontinued)
Lists
NPCs
Musical instruments
Songs
Other