Lina is an NPC involved in the Master quest, The Firemaker's Curse. She joined because she is excited to be on her first adventure.
If not killed during the quest, then she appears in Balthazar Beauregard's Big Top Bonanza after the quest.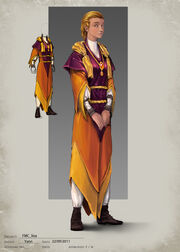 Ad blocker interference detected!
Wikia is a free-to-use site that makes money from advertising. We have a modified experience for viewers using ad blockers

Wikia is not accessible if you've made further modifications. Remove the custom ad blocker rule(s) and the page will load as expected.