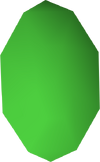 A lime is a members-only green fruit used in Gnome Cuisine, most often used in Gnome cooking. It can be diced with a knife into Lime chunks, or sliced with a knife into Lime slices. These both heal 200 life points each. The lime itself cannot be eaten.
Unlike most other fruits, it cannot be grown using the Farming skill. Instead, they must be bought from Hudo's groceries and Heckel Funch in the Grand Tree. It is also available from the Market seller in Pollnivneach or gotten as drop from gnomes throughout Tree Gnome Stronghold. They can also be obtained through the scrolls from the fruit bat.
Limes are compostable – they will make regular compost.
Dropping monsters
Edit
Wikipedia has an article about:


Lime