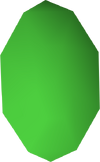 A lime is a members-only green fruit used in Gnome Cuisine, most often used in Gnome cooking. Players can right click a lime and selecting "Slice" to turn the lime into lime chunks or lime slices. These both heal 200 life points each. The lime itself cannot be eaten.
Unlike most other fruits, it cannot be grown using the Farming skill. Instead, they must be bought from Hudo's groceries and Heckel Funch in the Grand Tree. It is also available from the Market seller in Pollnivneach or gotten as drop from gnomes throughout Tree Gnome Stronghold. They can also be obtained through the scrolls from the fruit bat.
Limes are compostable – they will make regular compost.
Dropping monsters
Edit
For an exhaustive list of all known sources for this item, see here.
Store locations
Edit
This list was created dynamically. For help, see the FAQ.
To force an update of this list, click here.
Disassembly
Edit
Ad blocker interference detected!
Wikia is a free-to-use site that makes money from advertising. We have a modified experience for viewers using ad blockers

Wikia is not accessible if you've made further modifications. Remove the custom ad blocker rule(s) and the page will load as expected.